Story Progress
Back to home
Smoked Quail Drizzled with Pomegranate Reduction Recipe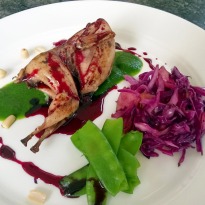 For all those those extra special Christmas dinners or a romantic date. This dish of smoked quail with sweet and sour reduction of Pomegranate, sets the stage. Macademia nuts are like the cherry on the cake!

Ingredients of Smoked Quail Drizzled with Pomegranate Reduction
1 smoked quail
1 pomegranate
30 gm snow peas
30 gm red cabbage
100 ml red Wine
25 ml asparagus puree
30 gm macademia nuts
Salt to taste
Black Pepper as per taste
100 ml olive Oil
10 gm cherry tomatoes
1 green apples
20 sweet potatoes
1 oregano sprig
How to Make Smoked Quail Drizzled with Pomegranate Reduction
Hide

Show

Media
1.
Heat the smoked quail in an oven for a little while to make it hot
2.
Make a reduction of pomegranate juice in a different pan till it coats the spoon
3.
Blanch the asparagus and make a puree of it
4.
Braise the red cabbage with some red wine and green apples
5.
Toast the macadamia nuts and keep aside
6.
Toss the cherry tomatoes and keep for garnishing
7.
Roast the sweet potatoes and mash it. Season the same
8.
Spread the asparagus puree like a strip on a plate
9.
Put mashed sweet potato on it
10.
Arrange the quail on top of the mash
11.
Place the tossed and braised red cabbage and tossed snow peas on the side
12.
Sprinkle cherry tomatoes and macadamia nuts on the plate
13.
Drizzle the pomegranate reduction on the quail and serve hot with a sprig of fresh oregano