Story Progress
Back to home
Snow-Capped Fudge Cookies Recipe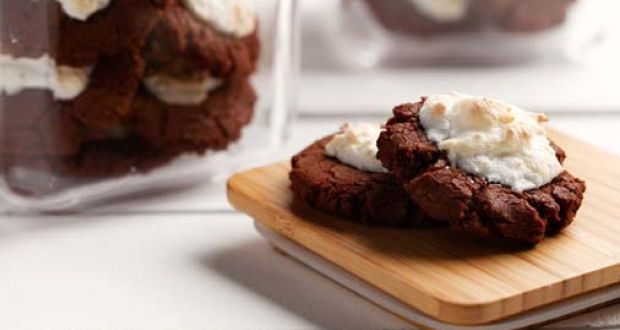 These holiday cookies are perfect to keep yourselves and your kids entertained in the kitchen. Freshly baked chocolate cookies crowned with a festive coconut-flavored topping.

Ingredients of Snow-Capped Fudge Cookies
Ingredients
4 squares unsweetened chocolate
1 1/2 cups granulated sugar
3 Tbsp or 45 ml of canola oil
2 Tbsp or 30 ml of milk
2 tsp or 10 ml of vanilla of extract
3 eggs
2 cups all purpose flour
2 tsp baking powder
2 Tbsp granulated sugar
2/3 cup flaked sweetened coconut
1.
Melt the chocolate in a microwave set on 50% power or in a heavy saucepan set over low heat. Let it cool.Preheat oven to 375 °F (190 °C).
2.
In a large mixing bowl, combine 1 1/2 cups (375 mL) sugar, canola oil, milk, vanilla and melted chocolate.
3.
In a small mixing bowl, set aside one egg white. Add yolk and remaining eggs to chocolate mixture. Beat well.
4.
Sift together flour and baking powder and add to chocolate mixture. Mix well.
5.
Cover and chill for 1 hour, or until dough is easy to handle.
6.
Clean beaters and beat reserved egg white with electric mixer set on medium speed, until soft peaks form.
7.
Gradually add 2 Tbsp (30 mL) sugar, beating on high speed until stiff peaks form. Fold in coconut.
8.
Shape dough into 1inch (2.5cm) balls. Place 2 inches (5 cm) apart on cookie sheet. Flatten slightly with your fingers.
9.
Top each flattened ball of dough with 1/2 tsp (2 mL) of coconut mixture.
10.
Bake for 10-12 minutes or until tops are lightly browned. Remove and cool on wire rack.