Story Progress
Back to home
Prawn Pakoda Recipe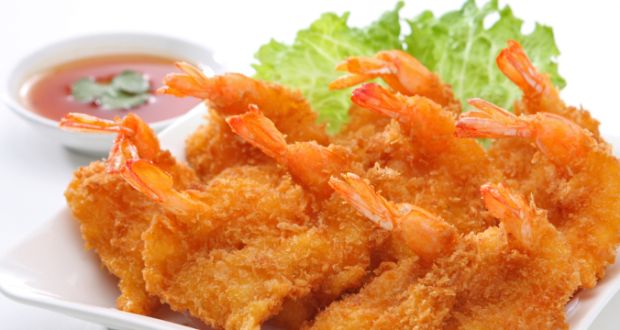 How to make Prawn Pakoda
An all time favorite snack to go for. Wrapped in mango powder and chickpea flour, this one's a delight for all seafood lovers.

Ingredients of Prawn Pakoda
250 gms prawns - cleaned and mixed
For mixing:
2 tsp salt
1 Tbsp water
1 cup - chick-pea flour
1 tsp garlic paste
1/2 tsp turmeric
1/2 tsp red pepper
1 tsp finely green chillies - chopped
1 Tbsp finely coriander leaves - chopped
1 tsp dried mango powder
2 cups water approximately
Oil for deep frying
2.
Mix the flour, garlic, salt, pepper, chillies, coriander and mango powder, in enough water, to form a smooth paste.
3.
Then add enough water to make a pouring consistency (when lifted in a spoon and dropped, it should fall in a continuous smooth stream).
4.
Heat the oil in a kadahi till a drop of batter dropped in comes up at once.
5.
Dip the prawns in the batter and drop into the hot oil.
6.
Fry over medium heat, to a very light brown.
7.
Lift out with a slotted spoon and keep aside.
8.
When ready to serve, heat the oil again and fry over high heat to a golden brown.
9.
Remove from oil, drain on an absorbent paper, and serve with a chutney or ketchup.