Story Progress
Back to home
Spring Salad Recipe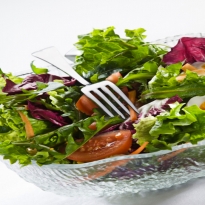 A salad of peppers, zucchini and rocket is easy to make and is a good side dish for a meat of fish main course.

Ingredients of Spring Salad
2 red capsicums 2 yellow capsicums 1 zucchini 10-12 basil leaves 100 gm rocket leaves 1/2 iceberg lettuce 1 small bunch of parsley 10 pitted green olives 10 pitted black olives
For the Dressing: 4-5 Tbsp olive oil 1 tsp balsamic vinegar 3-4 tsp dried oregano 1/2 tsp garlic puree Sea-salt - to taste
1.
Cut the capsicums lengthwise and remove the seeds and core them. Then dice them into squares and keep them aside in a salad bowl. Chop the zucchini into round chunks, slice them in half, cut lengthwise into thin slices and add to the capsicum. Add the rocket leaves, basil leaves and parsley. Then roughly tear the iceberg lettuce and add to the capsicum. Chop the green and black olives into small pieces and add them to the salad. Whisk all the ingredients together. In the end add sea-salt and toss the salad. Serve.