Story Progress
Back to home
Stir Fried Greens With Coconut Dip Recipe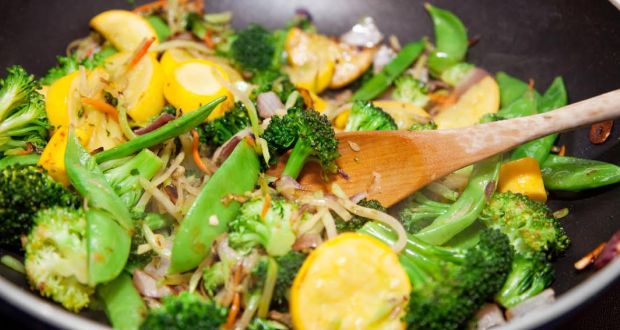 Garden fresh green veggies stir fried with minimal spices. Enjoy it with refreshing coconut dip.

Ingredients of Stir Fried Greens With Coconut Dip
100 gm snow peas
100 gm halved green beans
2 spring onions- cut into 1
100 gm chinese lettuce
1 cucumber- peeled and chopped
100 gm asparagus
100 gm bean sprouts
1 Tbsp sesame oil
1 Tbsp groundnut oil
1 Tbsp ginger- shredded
2 shredded red chillies
1 tsp garlic paste
1 green chilli- seeded and chopped
2 tsp sugar
3 Tbsp coconut- creamed
5 Tbsp boiling water
2 tsp chilli sauce
3 Tbsp vegetable oil
2 Tbsp lime juice
2 Tbsp chopped mint
1.
Combine all the vegetables in a bowl.
3.
Then stir in ginger and chillies.
4.
Add vegetables to the pan.
5.
Stir fry for 3-4 minutes.
6.
Season and serve with sauce.
For the sauce:
1.
Combine all the ingredients together.