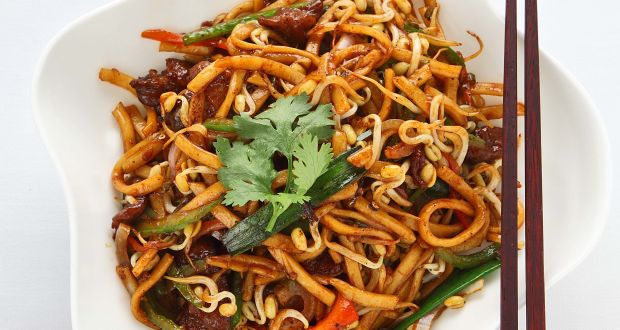 Udon noodles cooked sensationally with a blast of flavours. Bell peppers, mock duck and a host of other ingredients added to take it a notch up.
Ingredients of Stir Fry Udon Noodle With Black Pepper Sauce
200 gms udon noodles
20 gms red onion
10 gms green capsicum
10 gms red capsicum
10 gms yellow capsicum
60 gms bean sprouts
5 gms spring onion
40 gms mock duck
2 gms black pepper
For the sauce:
2 minced garlic cloves
10 gms fresh minced ginger
25 ml soya sauce
30 ml rice vinegar
20 ml peanut oil
25 ml sesame oil
How to Make Stir Fry Udon Noodle With Black Pepper Sauce
For the sauce:
1.

Mix all the ingredients together

For the noodles:
1.

Heat oil in a wok.

2.

Toss noodles in the wok and add crushed black pepper,

3.

Add green, yellow and red capsicum along with mock duck,

4.

Add noodle sauce,

5.

Add fresh bean sprouts,

6.

Toss on high flame and remove.

7.

Serve in a noodle bowl and garnish with a coriander leaf.
Key Ingredients: udon noodles, red onion, green capsicum, red capsicum, yellow capsicum, bean sprouts, spring onion, mock duck, black pepper, minced garlic cloves, fresh minced ginger, soya sauce, rice vinegar, peanut oil, sesame oil