Story Progress
Back to home
Sushi Rice Recipe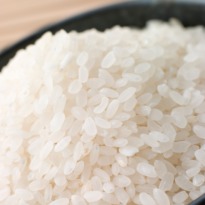 How to make Sushi Rice
Sushi rice are not the long grain rice we usually use to cook pulao. They are thick grain rice with an ability to stick together after being cooked.

Ingredients of Sushi Rice
180 gm of sushi rice
2 tsp castor sugar
1/2 teaspoon salt
45 ml vinegar
1.
Wash 180 gm of rice at least 10 times to get the water to be clear.
2.
Now leave in pot of 20 mins. The rice will fluff up a bit.
3.
Put the rice along with equal amount of water eg 1 cup rice and 1 cup water (cold) in a deep pot with a transparent cover if possible. Turn on full heat. Put the lid on the pot and leave until the rice starts to boil.
4.
When it starts boiling, turn down the heat and simmer until water has boiled away.
5.
Now turn of the heat and let the rice steam for 15 to 20 mins.
6.
Put the rice in a deep bowl and mix with salt sugar and vinegar. Mix with a wooden spatula as if you are slicing the rice rather than mixing it in a circular motion. Keep fanning the rice if possible till cool.
8.
Never put the sushi rice in the fridge.you will ruin the consistency.
9.
Always try consuming sushi on the same day.
10.
Always wet you hands slightly while handling sushi rice or it will stick to your hand.