Story Progress
Back to home
Hassel Back Sweet Potatoes Recipe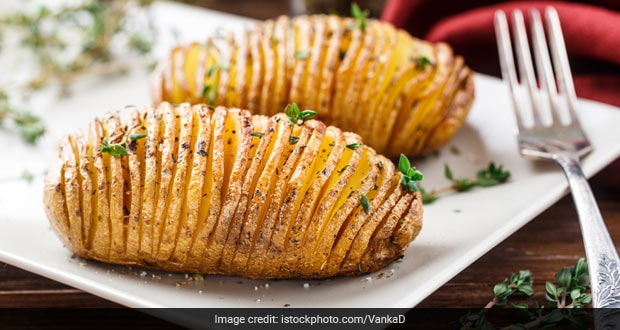 How To Make Hassel back Sweet Potatoes
Hassel Back Sweet Potatoes: Come winters and the sweet potatoes or locally called Shakarkandi is available at every street and local market. This Christmas and New Year, try a traditional sweet potato dish to relish with family and friends.
Total Cook Time

1 hr 10 mins

Ingredients of Hassel Back Sweet Potatoes
4 Medium sweet potatoes
6 tbsp butter, unsalted
1/3 cup brown sugar
1 tsp pure vanilla extract
1/2 tsp ground cinnamon
1/2 tsp himalayan pink salt / rock salt
1.
Position an oven rack in the center of the oven and preheat the oven to 425 degrees F.
2.
Shave a thin sliver from one side of each potato to give it a flat surface to stand on while you slice it. Make thin slices into the potato about 1/16-inch thick, stopping before you cut all the way through. (Placing a chopstick on either side of the potato while you slice it can help stop the blade before it cuts all the way through.)
3.
Put each potato on a separate sheet of foil. Shape the foil around the potatoes to wrap them, but leave the tops open and exposed.
4.
Put the potatoes on a rimmed baking sheet.
5.
Melt the butter in a small skillet over medium-high heat, swirling occasionally, until browned and nutty, 2 to 3 minutes.
6.
Stir in the brown sugar, vanilla, cinnamon and salt. Drizzle the butter mixture over the potatoes and pinch the foil together on top to seal the potato inside.
7.
Bake for 45 minutes, then let cool for a few moments. Remove the potatoes from the foil, put them on a serving platter and drizzle with the sauce leftover in each foil packet.
8.
Sprinkle some nuts while serving.