Story Progress
Back to home
Tamater Ki Launji Recipe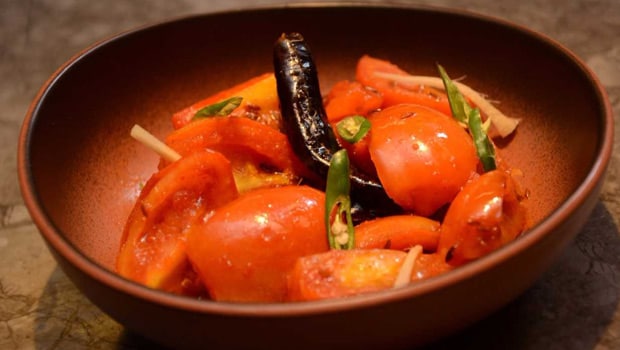 How to make Tamater Ki Launji
Everyday ingredients, minimal time, and least effort is all it takes to make this mouth-watering accompaniment. It is just about the right combination of ingredients with the appropriate quick cooking techniques, which retains – and even enhances – the tangy flavour of tomatoes so beautifully. Enjoy this Navratri Vrat special Tamatar ki Launji hot and fresh,with your favourite roti.

Ingredients of Tamater Ki Launji
8 Medium Tomatoes
2 tbsp Desi Ghee
1/2 Cumin Seeds
1 tsp Red Chilli Powder
1/2 tsp Turmeric Powder
5 tsp Sugar
to taste Sendha Namak
For Garnishing:
3 Green Chillies
1.
Wash and cut tomatoes into wedges.
2.
Wash and slit green chillies.
3.
Heat ghee to a smoking point and add cumin seeds.
4.
Cumin seeds when added to hot oil turn to a dark color immediately; this releases its flavour instantly. ·
5.
Add all the spices, tomatoes, salt and sugar.
6.
Stir nicely and cook for 3 to 4 minutes on high flame until the tomatoes are slightly tender.
7.
Do not overcook as the curry may turn into a sauce.
8.
Garnish with green chillies.