Story Progress
Back to home
Three Tiered Plum Dessert Recipe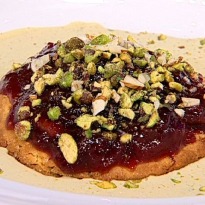 Three layered dessert, plum compote served on a crumbly besan halwa biscuit with a cardamom pista cream on the side.

Ingredients of Three Tiered Plum Dessert
For Plum Compote:
12 red flesh plums
4 Tbsp white sugar
8 Tbsp jaggery (gurr)
3 cloves
For Besan Halwa Biscuit:
1 cup gram flour (besan)
Maida (all purpose flour)
1 Tbsp sugar
3 Tbsp butter
Few almonds, grated
Ghee, for glazing
For Cardamom Pista Cream:
1 cup milk
Sugar
Jaggery (gurr)
1 egg yolk
8 strands saffron
6 green cardamom seeds, lightly crushed
4 pistachios, grated
2 cups double cream
For Garnish:
1 Tbsp pistachio, grated
1 Tbsp almonds, grated
For Plum Compote:
1.
Chop plums into a pan on a medium high flame with skins on. Add in the sugar and gurr, add 1 cup of water and bring to a boil. Add in cloves.
2.
Once water is almost evaporated, add in another 2 cups and leave to cook further. You should be left with a thick syrup which does not fall off the back of a spoon.
For the Besan Halwa Biscuit:
1.
Mix besan with maida, sugar, butter and grated almonds. The mix should be sticky but should hold together.
2.
Make biscuits and place gently onto a baking tray. Glaze with a little ghee for color and place in the oven at 200 degrees for 12-15 minutes. Remove and let the biscuits cool.
For the Cardamom Pista Cream:
1.
Cook 1 cup milk with sugar and gurr till reduced by half. Add in one egg yolk slowly, making sure it does not harden in the pan.
2.
As soon as the cream is thick remove it from the flame, drop in the saffron and ground cardamom seeds and place in a fridge to cool.
3.
In a bowl, whisk the grated pista and double cream together thoroughly. Place this in the fridge to cool slightly as well.
4.
Then gently mix the two creams together, make sure you don't whisk the reduced cream too much.
5.
Layer the biscuit with some plum compote and serve the cream drizzled around the sides.
6.
Garnish with some grated pistachio and almond.