Story Progress
Back to home
Vangi Bhaat Recipe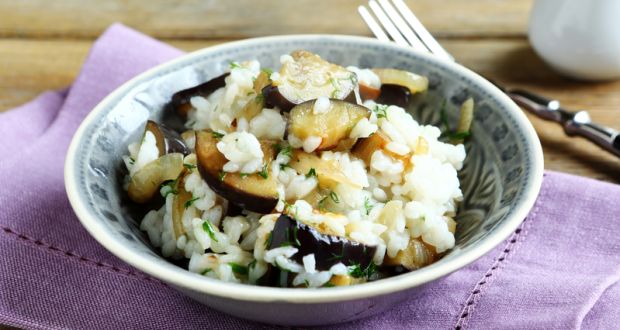 An authentic rice recipe from Maharashtra with coconut, cashews, freshly ground spice powder and brinjal.

Ingredients of Vangi Bhaat
1 1/2 cups tendli or brinjals -sliced horizontally
1 cup long grained rice
1 tsp mustard seeds
1 tsp cumin seeds
3 cardamoms
1 cinnamon
5 cloves
1 tsp fenugreek seeds
2 slit green chilli
5 curry leaves
1 tsp asafoetida
1 tsp turmeric powder
1 cup grated coconut
1 tsp chilli powder
1 Tbsp ghee
Salt to taste
2 Tbsp chopped coriander
2 Tbsp fried cashew nuts
Spice Powder
Grind all the ingredients together:
2 roasted cloves
1 cinnamon
1 tsp roasted coriander seeds
1 tsp roasted cumin seeds
1 tsp caraway seeds
1 cup grated dry coconut
2 Tbsp sesame seeds
1.
1. Soak rice in water for 10 minutes. Drain and keep aside.
2.
2. Heat ghee, add mustard seeds and wait until crackled.
3.
3. Add cumin seeds, cardamom, cinnamon, cloves, fenugreek seeds, green chillies, curry leaves, asafoetida.
4.
4. Add tendli or brinjals, rice and sauté for a few minutes.
5.
5. Add turmeric powder, chilli powder, half the spice powder, salt and mix well.
6.
6. Sauté for a further 2 minutes. Add 2 cups of hot water and cook on slow flame till the rice is tender.
7.
7. Add 1 cup grated coconut and remaining half of spice powder.
8.
8. Cover and cook for about 2 minutes on a very slow flame.
9.
9. Serve hot, garnished with grated coconut, coriander and fried cashewnuts.