Story Progress
Back to home
Waffle Cake Recipe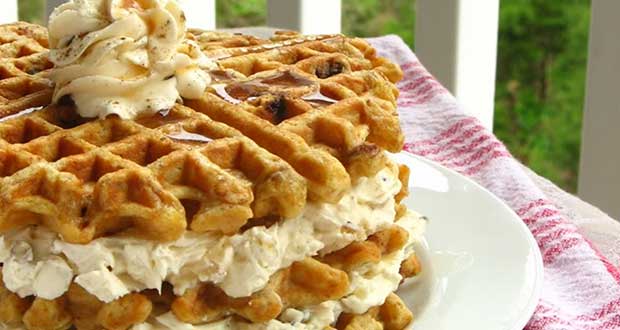 The ideal sinful breakfast recipe, this can be an all time favourite. Have it as a dessert or enjoy it for breakfast, this waffle cake will satisfy your taste buds.

Ingredients of Waffle Cake
For Waffle
2 cups of refined flour Refined flour
1/2 tsp of salt
2 Tbsp of sugar
1 1/2 tsp of baking soda
1 tsp of cinnamon
1 3/4 cups of buttermilk
2 eggs separated
4 Tbsp of butter
1/2 tsp of vanilla extracts
Cooking spray for waffle iron
For Maple Nut Cream Cheese Spread
1 cup of cream cheese
1 cup of whipped cream
4 Tbsp of maple syrup
3 Tbsp of walnuts
1.
1. Combine the flour, salt, sugar, baking soda.
2.
2. Mix together the buttermilk (or buttermilk substitute) and the egg yolks. Stir in vanilla.
3.
3. Spray the waffle iron well and preheat it. Stir the wet into the dry ingredients.
4.
4. Beat the egg whites in a separate bowl with a whisk or electric mixer (make sure bowl and mixer are spotlessly clean) until they hold soft peaks. Stir them gently into the batter.
5.
5. Spread a ladleful or so of batter onto the waffle iron and bake until the waffle is done, usually 3 to 5 minutes, depending on your iron. Spray iron with cooking spray between waffles as needed.
6.
6. To make Maple Cream Cheese spread, simply combine nuts, syrup, whipped cream and cream cheese and mix well.
7.
7. Now put the icing and waffle layer alternatively to form a cake and cover the sides with icing.
8.
8. Leave the top without icing and top it up with maple syrup.