Story Progress
Back to home
Walnut Sauce Recipe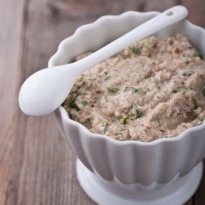 A very delicious walnut sauce with sesame and garlic. Too hard to resist!

Ingredients of Walnut Sauce
100 gm roasted walnuts
1 Tbsp garlic paste
1 Tbsp chopped parsley
15 ml sesame seed oil
15 ml groundnut oil
2 tsp lemon juice
Roasted sesame seeds to garnish
1.
To prepare walnut sauce, grind walnuts, garlic and herbs together.
3.
Sharpen with lemon juice.
4.
Season well and serve with grilled vegetables.