Story Progress
Back to home
Watermelon Salad Recipe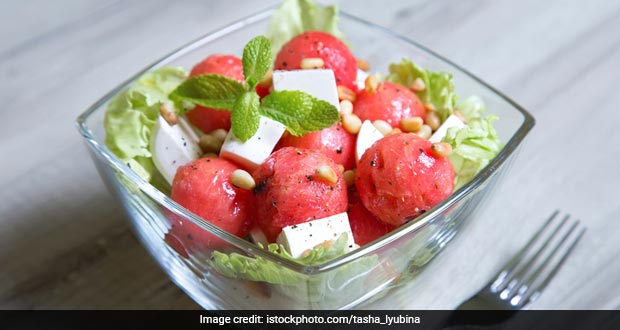 How to make Watermelon Salad
Watermelon balls, fresh lettuce, feta and a splash of lime creates the best salad ever! Honey, pine nuts and a generous drizzle of extra virgin olive oil make it go savory, refreshing and just divine!

Ingredients of Watermelon Salad
140 Gram Watermelon balls
5 gram Rocket lettuce
5 gram Lollo rosso lettuce
15 ml Lemon honey dressing
10 gram Pine nuts
15 ml Honey
15 ml Extra virgin oil
15 gram Feta cheese (diced)
1 gram Oregano
15 gram Crispy parma ham (optional)
1.
Take the watermelon and cut it into half. Slash off a portion of the base so that it becomes flat from the bottom but make sure you don't cut the melon too far because we need the base to be covered with little melon.
2.
Take a melon scooper and start taking out melon balls from it.
3.
Once you are done with taking out the melon balls, take the iceberg lettuce and hand tear it to make a small bed inside the melon.
For the dressing:
1.
Take all dressing ingredients and whisk it together.
2.
Now put the melon balls, rocket, pine nuts and dressing together in a mixing bowl and toss.
3.
Once the salad is coated well, refill it back in the melon shell.
For the garnish:
1.
Take feta cheese and cut it into small cubes and top it over the watermelon bowl filling.
2.
If you are a non vegetarian, you can add parma ham slices to your salad as well.