Story Progress
Back to home
Watermelon Curry Recipe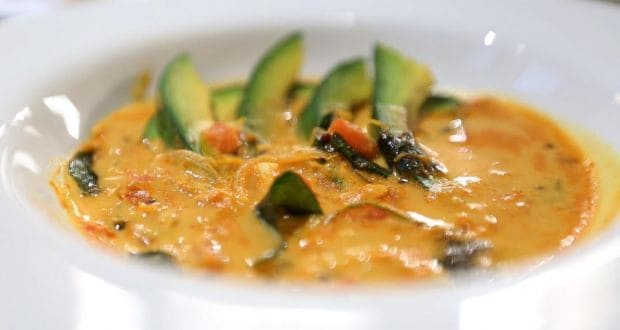 How to make Watermelon Curry
About Watermelon Curry Recipe: A range of spices and beans are infused with watermelon juice, tomato puree, paneer and mango slices are added afterwards.

Ingredients of Watermelon Curry
1 Medium watermelon
200 gms paneer
2 medium onions
1 1/2 cup black beans
2 Green chillies
1 tsp coriander powder
1 tsp kashmiri red chilli powder
1 tsp garam masala
1/2 tsp turmeric powder
1 small ginger
2-3 Garlic cloves
Few cardamom seeds
1 tsp cumin seeds
3-4 Whole black pepper
2-3 Cloves
1/2 stick cinnamon
1 Star anise
1 tbsp tomato puree
1 1/2 cup black beans
2-3 basil leaves
1 tsp lemon juice
1/2 Red pepper
1/2 Radish
1/2 large mango
2-3 Basil leaves
1.
Make a paste of onions, ginger, garlic & chillies in a mixer.
2.
Peel the watermelon and blend the chunks to a puree.
3.
In a pot add some light olive oil, Add star anise, black pepper corns, a few cardamom seed and cinnamon stick.
5.
Add cumin seeds, coriander powder, kashmiri red chilli powder, onions, ginger, garlic, chillies paste, garam masala and a small pinch of turmeric, mix well.
6.
Add cooked black beans and strain the watermelon juice.
7.
Add some of the watermelon juice to the cooking spices and beans in the pot, to make a base.
9.
As the puree is cooking away in the pot, dice the paneer and the mango into medium sized chunks.
11.
Bring it to a boil, season it with salt.
12.
Add basil leaves, lemon juice and fresh coriander leaves.
13.
Garnish with thinly sliced red bell peppers, radish and some chives.