Story Progress
Back to home
Mediterranean Watermelon Salad Recipe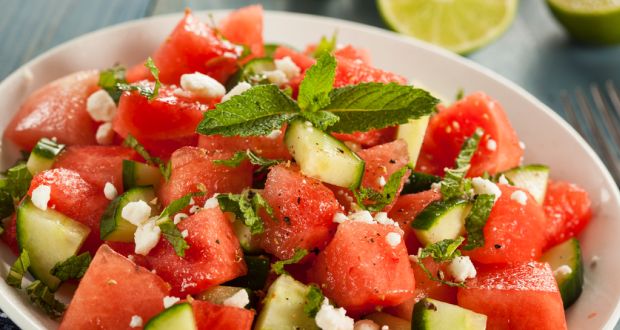 How to make Mediterranean Watermelon Salad
Mediterranean Watermelon Salad Recipe: A quick serving of a refreshing salad with hydrating ingredients. Watermelon cubes, cucumber, tomatoes, lettuce and bell peppers drizzled with a light dressing.

Ingredients of Mediterranean Watermelon Salad
1 bowl watermelon cubes
2 Yellow bell peppers
1 cup onions
1 cup cucumber
1 cup tomatoes
Pomegranate juice
1 tbsp mustard paste
2 tbsp olive oil
A pinch of jeera powder
A pinch of oregano
10-12 Olives
parsley, chopped
Romaine lettuce
Rocket lettuce
Flax seeds
Pistachios
Salt & pepper
1.
Pour pomegranate juice into a bowl.
2.
Add mustard paste, oregano, jeera powder, salt & pepper and whisk it well. Then add olive oil.
3.
In another bowl, put the watermelon cubes, yellow bell peppers, onions, cucumber, tomatoes and olives.
4.
Add parsley, salt and pepper. Mix them all well. Add lettuce leaves, flax seeds and pistachios. Add to the watermelon mixture. Toss it well.