Story Progress
Back to home
Zaffrani Rabri Crme Anglasise With Lauki Ke Lacche Recipe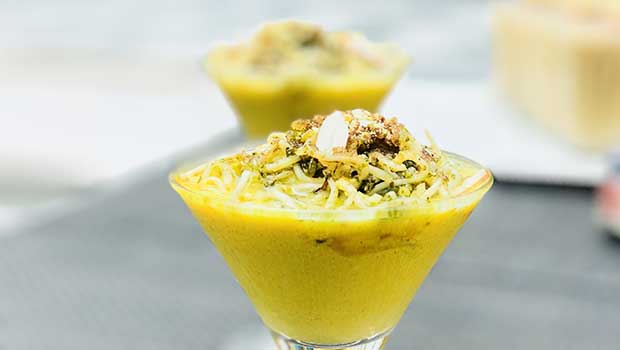 How to make Zaffrani Rabri Crème Anglasise with Lauki ka Lacche
Rabri or rabdi is a famous Indian dessert which is prepared in most households and is cherished by people of all age groups. It is a thickened milk and sugar mixture. This recipe here of Rabri used as a Crème Anglasise is that of a twist with Lauki or bottle gourd which further enhances it taste and makes it healthy besides making it an exotic, unique Indian dessert to try for your next festive party!

Ingredients of Zaffrani Rabri Crme Anglasise With Lauki Ke Lacche
For the Crème Anglaise:
150 ml Milk
50 ml Rabri
1 Vanilla Pod(split, seeds scraped)
4 Egg Yolks (free-range)
40 gram Castor Sugar
0.5 gram Saffron
For Lauki ka Lacche:
200 gram Bottle Gourd (noodle length), grated
100 gram Sugar
10 ml Rose Water
20 gram Nuts, chopped
75 ml Water
How to Make Zaffrani Rabri Crme Anglasise With Lauki Ke Lacche
Hide

Show

Media
Prepare the Crème Anglaise:
1.
Place the milk, rabri, vanilla pod and seeds into a saucepan and bring to the boil. Turn off the heat.
2.
Place the egg yolks and castor sugar into a bowl and whisk until pale and creamy.
3.
Pour a dash of the hot milk into the egg mixture and whisk to combine, then slowly pour in the rest of the milk, whisking all the while.
4.
Pour the mixture back into the saucepan and bring to a gentle simmer. Stirring frequently, cook for 3-4 minutes, or until the mixture is smooth.
Prepare Lauki ka Lacche:
1.
Put water, sugar and grated bottle gourd in a pan and let it cook on low flame.
2.
Once bottle gourd is cooked, increase the flame and cook till water is evaporated.
3.
Turn off the flame and finish with rose water and chopped nuts on the top.
4.
To serve put the rabri mixture in a glass and top with lauki ka laccha.