Restaurant Review: Savor Seafood at Ente Keralam
IANS , Chennai | Updated: August 08, 2013 12:40 IST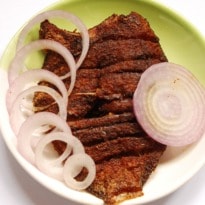 It is "Chaakara" time at the fine-dining restaurant Ente Keralam, which has branches in the capital cities of Tamil Nadu and Karnataka. Sea food lovers can expect a feast until Aug 11.

'Chaakara' refers to the marine phenomenon during the monsoon, when an area of calm waters occurs because of the formation of a mud bank, drawing fish in large numbers. In India, this phenomenon occurs only along the Kerala coast.

At Ente Keralam, though, there are no mud banks -- what is on offer is a plethora of seafood varieties to keep the taste buds tingling and the mouth busy.

Jaya Prasad, brand chef at Ente Keralam restaurant, in a newspaper advertisement, held up a big fish, inviting people to taste his work.

One is already salivating when one lands at Ente Keralam in the up-market Poes Garden, home also to Tamil Nadu Chief Minister J. Jayalalithaa, actor Rajinikanth and several industrialists.

Once one finds oneself comfortably seated, one can expect a lungi-clad staff member with a panama hat to bring two varieties of Nendran banana chips - one coated with jaggery and ginger, and the other plain and salted. Both are trademark Kerala food items.

As the chips get consumed, Prasad serves thengapal (coconut milk) prawn soup, which is prawns cooked along with spices and finished with coconut milk.

The onion julienne that floated in the soup reminds one of the French onion soup, with a coconut flavour.

And after that, the ever-smiling Prasad served njandu rasam - crab meat cooked in lentil stock and spices. "We source our seafood from Kerala. The seafood catch in the Arabian Sea is far tastier than the catch in the Bay of Bengal. Nearly 95 percent of the sea food served here is from the Arabian Sea," Prasad said.

And by this time, taster's portions of hot and spicy scampi roast, nethili/anchovies fry, pepper prawn fry and fish cutlet arrive on the table.

Even as the scampi roast and the rest swim down the gullet, the topic of conversation turns to the price of fish.

"The prices of seer fish have gone up in recent times -- from Rs.600/kg, the ruling price now is around Rs.1,000/kg," Prasad said.

A spokesperson of Oriental Cuisines, the company that owns Ente Keralam outlets, said: "Our chefs research the cuisine, travel the world to be part of food exhibitions, stay up-to-date with global food trends and constantly invent and re-invent. They bring authenticity and expertise to the food we offer, and play an extremely important role in the festivals that we host."

"By featuring them in our advertisements, we bring a human touch to these. People get to see a 'people side' to the brand, and look forward to meeting and interacting with the chefs."

Meanwhile, a nice-smelling banana leaf package with a small piece of lemon is served, which turns out to be the avoli/black pomfret pollichathu.

Unwrapping the banana leaf, one finds a full fish covered with spicy aromatic masala wafting through the air. Three or four gashes on both sides of the fish not only enables the masala to seep through, but also make it easy to devour the spicy, steaming fish.

For the main dish, Prasad suggested iddiappam/appam with thenga varutharacha modha (fish cooked in roasted ground coconut masala) and vatta manga curry (trevally fish cooked with ground coconut paste and raw mango).

The idiappam was excellent with the two dishes.

There is a Tamil phrase 'idiappa sikkal' (idiappa knot), indicating a dilemma. One finds it hard to say which dish tasted better.

The seafood varieties include clams, prawn, scampi, squid and crab, apart from curries like karimeen moilee pearl spot-cooked in coconut milk and ginger, njandu roast-crab, shell-cooked in a thick sliced onion masala, chemballi mappas - chemballi fish cooked with coriander powder and coconut milk and more.

The average meal for two would cost around Rs.1,000, and the dishes are available for lunch and dinner.