Where to find the best fried fish in Goa
IANS | Updated: May 22, 2014 17:45 IST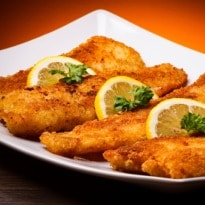 If you ever want to eat the best fried fish in Goa, you've got to do one thing for sure: Head inland away from the sea, away from the fancy beach-belt diners and those beach shacks offering hyped, assembly-line food. Under clay-tiled roofs, dodging tendrils of smoke in dim light and occasionally holding your breath to avoid the reeking smell of feni, you'll find pans laden with coarse flour-coated fried fish, sizzling delightfully in Goa's taverns.

Near Panaji, Kuttikar Bar lies at the end of a loose-gravel road behind what was once a stone mine. But for sea food aficionados it's a gold mine as far as fresh fish is concerned. Run by former legislator Krishna Kuttikar, the bar serves some of the best fried fish this side of the river, whether it's filleted Red Snapper, Rock Fish, Bombay Duck or Mussels. But the sweet and sour vinegar-kissed squid rings are the most sought after.

"It's the sweetness of the masala which makes the squids unique here. In most other places it is just hot and spicy," Kuttikar expalined. On most days, getting a seat here can be a problem with the 10 or so tables packed to capacity with binging junior bureaucrats, off-duty policemen, local residents and journalists among others which even includes staffers from the chief minister's office. (Kuttikar Bar and Restaurant. San Pedro, 8 km from Panaji)

Over in Siolim, 25 km north of here, the Amancio Bar overlooks a picturesque river and an abandoned ferry ramp. The only aberration to this otherwise placid environment is the pissed drunk patrons of this bar and others nearby, who perilously walk up to the edge of the concrete ramp to relieve themselves. Amancio's has a quaint wooden balcony with tables overlooking what was once a busy market place. But once the crusty fish lands on your plate, your attention doesn't get anywhere else. "The palu (perch) marinated fried with recheado (red chilli paste, spices and vinegar) masala is mouth-watering and priced affordably too," says Ashley do Rosario, who swears by the place. (Amancio Bar, near Siolim, Tar, Bardez)

Sheela Bar, located off the St. Jacinto island along the airport road has grown over the last couple of decades from a shack to a bar and restaurant almost threatening to go the fine dining way. Unlike most fried fish haunts which use a red chilli marinade before slipping the fish into the pan, Sylvester D'Souza uses a unique green chilli paste. "This is our trademark. It's what makes us unique. But we have a lot more offer in terms of fish, oysters, crabs and meats," says D'Souza.

His relatively sweet crab is unique too, as against the fiery garam masala spiced variants found in other restaurants. The preparation may not be to everyone's liking, but the crabs are more often than not bursting with flesh and that sweet, fresh flavour. (Sheela Bar and Restaurant: Opp St. Jacinto Island, Cortalim, 25 km from Panaji)

And then there are really rustic taverns like the one run by Madhu Halarnkar right next to a popular medicinal spring in the village of Pomburpa, 15 km from Panaji. His small operation reflects the quintessential soul of a Goa tavern: Four tables, animated conversation, mingling odours of stale sweat, spilt feni and the fish frying in the kitchen.

Halarnkar offers the more humbling varieties of fish like sole, milk fish and prawns, which are obviously fast-moving amongst his more than modest clients. If you are a diehard regular, he would even allow you to fetch your own fish, which he will cook to your liking. "Oh. You must have a bath at the spring after your meal. It's healing," Halarnkar often recommends midway through the meal. If you aren't so drunk, why not give it a try?