There's possibly no other place like Goa. No, really. It's got lazy beaches and lush green villages, posh resorts and pocket-friendly hotels, warm local hospitality and food and dining that makes every Goan outing even more memorable. It's hard to have a tough time in Goa which is perhaps India's favourite holiday destination. But there are also enough, and more, clichés about Goa that keep getting reinforced. Spending enough time here will tell you that there's more to this lovely beach destination than floral shirts,
Fenni
and beach-side shacks. For food lovers too, there's much more to explore than Brittos, Titos, Mum's Kitchen and Suza lobo. Don't get me wrong, these places are icons in their own right and have witnessed Goa evolve from a sleepy beach destination to an international holiday favourite. But Goa's culinary map extends beyond these classics now. There are many more exciting places and experiences that must be on your radar next time you go beaching in Goa. Here are some must-try spots around Candolim beach that many are yet to discover.
Bhatti Village
Bhatti village is what you get when you combine finger-licking food with a warm, homely ambiance. Set in a residential colony, Bhatti Village opens only in the evening for dinner. They serve all kinds of sea food here, cooked in a rustic local style. The home itself, now converted into a restaurant, has an old-world charm. On a slow evening, you will probably find the house ladies sitting in one of the rooms watching TV! The pork vindaloo here is exceptional and you must try it with the local Goan pao. The thick crusty bread is a great accompaniment to the spicy
vindaloo
. White bait, a local tiny fish variety is also a must try at Bhatti Village. The bite-sized fish are gently coated in rawa and deep fried, you can literally munch on these as you wait for your dinner to arrive. Delicious food, warm staff and an overall homely feel make Bhatti Village a place you would want to keep going back to.
Café Chocolatti
Candolim has a wide range of hotels that offer great breakfast buffets. Mostly, these are lavish spreads that can keep you full till lunch! However, if you want to step out for a delicious brekky in a garden-setting, then go try Café Chocolatti. The eatery opens at 9 am and having a cup of coffee here coupled with an akuri on toast puts you in a holiday mood right away. Café Chocolatti does a variety of cakes, puddings and pies. Don't leave here without tasting a few.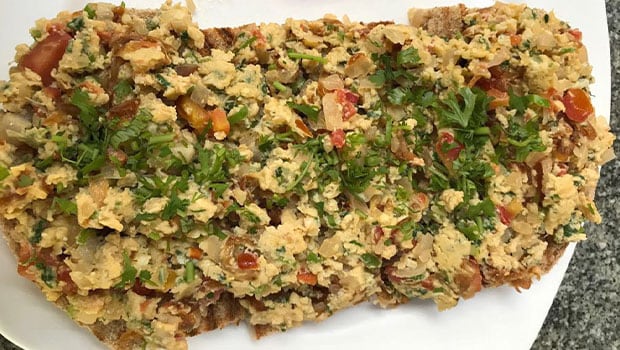 Rice Vermicelli with Prawns

Photo Credit: Tanu Ganguly
Bomra's
I first heard of Bomra's through Restaurateur and celebrity Chef Ritu Dalmia way back in 2009-10. The restaurant was new on the Goan scene then and yet everyone who ate at this small, stylish restaurant was raving about it already. In fact, at our very first Food Awards in 2011, Bomra's won the title of the Best Asian Restaurant by a jury that consisted of the likes of Ritu Dalmia, Marut Sikka and Vir Sanghvi. The restaurant owned by Burmese Chef Jawmra Jap is located on the Candolim-Ford Aguada road and has been belting out delicious food ever since.
Must try dishes here - The rice vermicelli with prawns and the pork tamarind curry.
Tuscany
Italian food and a beach destination really go well together. If you happen to be in Goa and there's delicately flavoured Italian fare on your mind, then head to Tuscany for a quiet evening meal. As you sit under the stars at the restaurant's outdoor dining space, remember to order a serving each of mushroom risotto and spaghetti carbonara. Tuscany is also known for its desserts, so a late night run just for their mudpie or affagato is totally worth it.
Fisherman's Cove
Fisherman's Cove has been serving yummy Goan food for decades. Located in the busy Candolim market area, this is a favourite hangout for many. Goan favourites like pork vindaloo, pork
sorpotel
, chicken caffereal and prawn curry are best sellers. The taste is always consistent and service always quick. Go for a meal or a quick snack enroute to the beach. Fisherman's Cove is your typical Goan food joint, complete with red and white tablecloth, that never disappoints.
The Lazy Goose
The newest kind on the block, or on this list at least, The Lazy Goose is a delightful little joint, tucked away under the Nerul bridge. Just a short drive from the Candolim area, The Lazy Goose serves Goan and continental dishes with an interesting menu that features fancy dishes like grilled Vietnamese prawn cakes, spinach & sundried tomato risotto balls, chicken & mushroom bites along with local favourites like fish in rachedo masala, pork sorpotel and chicken cafreal. They also organise crab-fishing expeditions on prior request. The food is great, but the setting is what truly adds a cherry on top.
A holiday in Goa is always special. Not only do you get to soak in the relaxed atmospherics of the beaches, you are also assured of a fulfilling gastronomic expedition. Making beautiful food memories in Goa is easy; the options are many and cater to all pocket-sizes, just make sure you choose wisely. Also, when you find a good place, make sure you share the recommendations ahead!