Picture this: Wind in your hair, sand touching your feet, music in your ears and cocktail in your hand. Hello
Goa
! Nothing compares to the nightlife in Goa, thanks to its beautiful beaches that make it a hotspot. For years, party lovers have been flocking here year after year for its vibrant beach shacks, enigmatic pubs and ambient live music scenes, and who can blame them? It's a never-ending fun. There's just something about the chilled out, laid back attitude of G-town that makes you want to let your hair down and kick your 6-inches to the curb. It doesn't really matter if you have been frequenting the place or are planning your trip for the first time. We've zeroed down our list of must visit clubs in Goa to top five that you must cover. Ever since Club Fresh shut shop and the hype of the iconic Titos strip (Café Mambos, Hype, Capetown Café) died down, we were skeptical of the nightlife in Goa. But we have to admit: it never lets you down. New concepts keep emerging - a dime a dozen, so we were thrilled when these 5 innovative clubs caught our fancy.
1. LPK (Love Passion Karma)
Sculpted terracotta statues all around, and an incredible waterfront with a 400-year old Indo
Portugese
church in the backdrop, LPK at Nerul is everything it promises to be, and more. It is the most exotic location in Goa and boasts opulence from the moment you step foot. You can take long walks along the water and revel in the riverside romance or dance the night away to the latest hits on LPK's specially sculpted indoor dance floor. If you need a break from the noise, you can step outside onto the deck, take in the breathtaking beauty and sip on their innovative concoctions and shooters. The B-52 goes highly recommended! What we love about this unique space? The lit-up "Love Passion Karma", over the glistening water.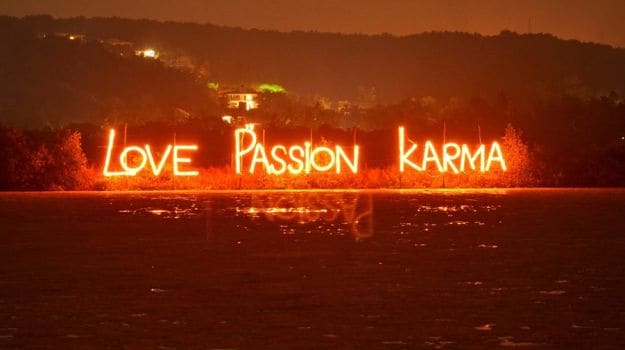 Love Passion Karma, Goa
2. SinQ
Located in Sinquerim,
North Goa
, near the Taj Holiday Village at Candolim, is this uber trendy and upbeat bar you'll just love. The property is one of the newest entrants in the clubbing scene of Goa, and a combination of a
Goan
tavern, a poolside deck and lounge plus a nightclub. They have recently introduced a glass-walled microbrewery as well, and 20 party suites which are now available for booking. The rooms are equipped with superior sound systems that receive a live feed from the DJ consoles in the main club. You'll be happy to know, SinQ often has DJ Aqeel and DJ Suketu playing on Saturday nights, making sure you dance till your feet hurt.
SinQ, Goa
3. Leopard Valley
Hidden in a valley between Agonda and Palolem, South
Goa
, is a haven for parties that go on till the wee hours of the morning, a club that has carved a niche since its launch a year ago. The decor is raw and blends with the greenery that surrounds it. It is a sight to behold at night with 3D laser light shows, pyrotechnics, fire pits and a dazzling atmosphere. In addition to the main dance floor is a sheltered dance floor with a long bar offering an elaborate cocktail menu and a state-of-the-arts sound system. With a host of guest DJs spinning the decks all throughout the season, Leopard Valley takes clubbing to a whole new level, and is in fact one of the biggest open air arenas in India. We highly recommend a visit here on Friday nights.
Leopard Valley, Goa
4. Cohiba
Featuring fantastic live music events, fusion cuisine and signature
cocktails
is a new lounge and bar called Cohiba. It has an al fresco area plus indoor seating, with the walls packed with photographs and high chairs with tangerine upholstery. Still coming into its own, Cohiba has a wide range of spirits and transports you straight to Havana with its Cuban flair. The crowd picks up around 9 pm and the music switches from the golden years to straight-up international around 1 am. Music surely takes precedence even though it may be known for its scrumptious 26 starters. This charming bar is located in Sinquerim, where Sweet Chilli used to be in Fort Aguada and has a lot to offer.
Cohiba, Goa
5. Club Cubana
Often dubbed as "the nightclub in the sky", this multi leveled and secluded club is a winding maze of levels and terraces. It is adorned with stark white loungers, beach-styled cabanas, a tempting Jacuzzi and poolside amidst coconut trees and pillars. And if that wasn't enough, there are bars at every level - open all night long! Yes, it's true. Oh and the view... Spanning from Aguada to Anjuna is simply breathtaking. The indoor dance floor and trendy bar cater to the discerning party lovers. With all things fluorescent, the club provides a warm and buzzing ambience like no other. The music ranges from House to Hip Hop. There is also an area strictly reserved for ladies only. Also, every Wednesday is ladies night. Note: The road leading up to Club Cubana isn't as welcoming as you would like it be, but once you enter the sprawling property, it's all uphill from there
(literally)
.
Club Cabana, Goa
Well then, which one have you ticked off from the check list and which one are you planning to visit this year? Do let us know your favourite pick from the lot!