Virgin Punch Recipe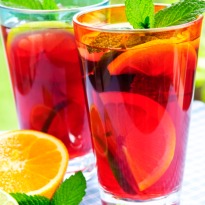 Very fruity, very refreshing. Juices of fruits like apple, mango, orange and some sparkling lemonade mixed together with lots of ice.
Ingredients of Virgin Punch
Juice of half a lemon
500 ml orange juice
500 ml mango juice
500 ml apple juice
400 ml sparkling lemonade
250 g mandarin segments, drained
A pinch of black pepper (optional)
How to Make Virgin Punch
Stir together all the ingredients in a large jug or bowl and add some ice cubes.