Monsoon is here and so is the time to enjoy the rains, nippy weather and lush green nature. It calms down the climate and gives us a respite from the summer distress. Unfortunately, what ruins the vibe are the associated troubles including extreme humidity and moisture in the air; and this directly affects our hair. So, before jumping into the puddles of joy, let's bring your attention to the not-so-pleasant factors of the season, one such being hair fall. During monsoons, many of us suffer from extreme hair loss, affecting our overall hair health. Hence, it is important to take extra care to keep your long manes healthy and strong. This is where your diet comes to the rescue.
Also Read: Hair Health: 5 Juices That Help In Faster Hair Growth


While we agree, our basic instinct is to reach out for good shampoos, hair oil and other topical treatments, what we fail to realise is that diet helps add nutrients to the roots, making it stronger than ever. And you don't need to go miles for the same. Instead, scan through the spice rack properly and pick the right spices and herbs to enjoy their benefits. Here, we will take you through a few such herbs and spices. Take a look.
Why Do You Experience Dull Hair And Extreme Hair Fall During Monsoon:
As mentioned earlier, we experience increased humidity during monsoon, which further causes the hair to absorb hydrogen. This disrupts the chemical structure of the hair and makes the roots sensitive. It also washes off the natural oil from the scalp, making the hair strands swell up. These factors result in brittle, fragile and dull and moist hair, leading to extreme hair fall during the season.
Monsoon Hair Care: 5 Kitchen Spices To Strengthen Your Hair And Prevent Hair Fall:
1. Black Pepper (Kali Mirch):
Besides spicing up your meal, it helps you get thick, long, black hair as well. Black pepper is loaded with vitamin A, C, carotenoids, flavonoids and other nutrients that help fight inflammation in the cells and prevents the strands from swelling up. It further helps strengthen the roots and leads to hair growth. You can either add black pepper to your meal or enjoy it as a detox drink by soaking some peppercorns in a glass of water.
Also Read: Black Pepper Benefits: 5 Healthy Ways To Include Kali Mirch In Your Diet
2. Sesame Seeds (Til):
Sesame seeds contain omega-3 fatty acids that help prevent natural oil on the scalp and the shine of your hair. Omega-3 fatty acids also improve blood circulation and flow throughout the body, including the hair cells, making it thick, long and beautiful. But remember, have sesame seeds in moderation. As per Ayurveda, til creates heat in the body, which if taken in excess may affect the balance. We suggest mixing some til with dahi to cool down its heating properties and enjoy it throughout the year. You can top your yoghurt smoothie with some til and enjoy.
3. Cumin (Jeera):
By now, we all know cumin is great for weight loss, metabolism and overall health management. Alongside, jeera is good for your hair too. The spice contains protein and carbohydrates that promote hair growth and strengthen the roots. Cumin further helps prevent the natural oil on the scalp and reduce hair frizz caused by humidity. You can always include it in your diet in the form of detox water.
4. Nigella Seeds (Kalonji):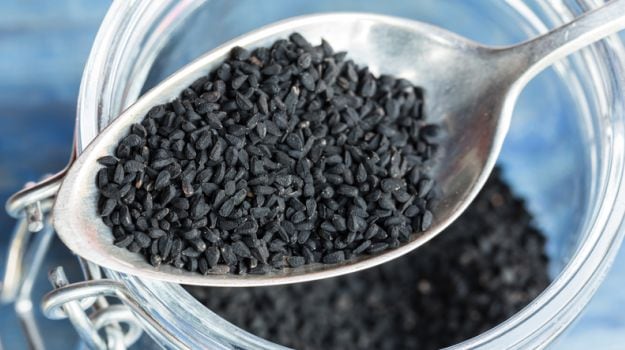 Kalonji contains Thymoquinone - a compound that is known to help nourish the hair follicles, further preventing excessive hair fall. The nutrients also help grip the hair better on the scalp. Add it as a tadka to your everyday meal and enjoy the benefits of kalonji to the fullest.
5. Cinnamon (Dalchini):
Cinnamon is packed with antioxidants and vitamins including A, C, E and K. These nutrients help reduce inflammation and strengthen the hair follicles, speeding up hair growth. Infuse cinnamon in water and enjoy it as herbal tea to make the most of cinnamon's benefits.
Also Read: 15 Incredible Benefits of Jeera Water for Your Skin, Hair and Health


But always remember, the best practice is to consult an expert before including any of the above spices in your hair health ritual. To make the most of any ingredient, it is important to have it in the right amount, in the right form and at the right time of the day. Make informed decisions in regard to your health and enjoy the monsoon season!


Disclaimer: This content including advice provides generic information only. It is in no way a substitute for qualified medical opinion. Always consult a specialist or your own doctor for more information. NDTV does not claim responsibility for this information.
About Somdatta SahaExplorer- this is what Somdatta likes to call herself. Be it in terms of food, people or places, all she craves for is to know the unknown. A simple aglio olio pasta or daal-chawal and a good movie can make her day.