We are all trying to make our skin heathy and clearer, yet more often than not we are only met with disappointment. The dry, dull damaged skin can take a toll on our self-confidence, is there nothing that can be done? Markets are flooded with products that claim to cure any skin problem but prove to be a nightmare in the long run. Our dependence on these commercial skin products has increased due to our busy schedules, considering we have no time to use home remedies that we have grown up hearing about. Ayurveda practices the age old way of using kitchen ingredients and herbs to cure skin ailments.
According to Yogi Anoop, Ayurveda expert, "Ayurveda says that your skin health is dependent on two factors- physical and psychological. The foods that you ingest affect the functioning of the body, which further reflects on the skin. On the other hand, your psychological condition, whether you are happy or sad will show up on your skin."
In order to get a glowing skin, it is important to load up on healthy foods, especially those which directly affect your skin health.

Here are the foods that Yogi Anoop suggests for a glowing skin-
1. Essential fatty acids
Essential fatty acids are fats that help in keeping your brain healthy. These help to control and regulate your psychological functions. Foods with these fatty acids include walnuts, olive oil, flaxseeds, almonds, whole grain foods, et al., which help in keeping your mind calm and stress-free.(Also Read: Ayurveda For Hair Growth: 5 Foods And Herbs That Can Increase Hair Volume)
Essential fatty acids are fats that help in keeping your brain healthy.​

2. Alkaline foods
Your body needs to be alkalised, which means to neutralise the acids formed in the body. Alkaline foods help the body to produce its own healthy hormones, which further helps keep your skin healthy. Include foods in your diet like fresh fruits and vegetables, grains and beans, nuts and seeds that are alkaline in nature.

3. Magnesium rich foods
Magnesium is one of the minerals that help your liver function properly. Your liver health reflects on your skin. So, loading up on magnesium rich foods may keep your liver and skin healthy. Include more green leafy vegetables, dark chocolate, figs, banana, seeds, avocado, et al.
Apart from the foods, you can bring kitchen ingredients to your rescue. Ayurvedacharya Dr. Partap Chauhan, Director at Jiva Ayurveda suggests some kitchen ingredients that will help your skin glow.

1. Chamomile Tea and Fuller's Earth (Multani Mitti) Pack
Chamomile helps regenerate skin cells and its anti-bacterial properties will fight off acne causing germs.
Strain half a cup of chamomile tea (without sugar) and mix it with 3 tea spoons of fuller's earth. Apply this pack twice a week to remove blackheads, deep-lodged dirt and dead skin cells.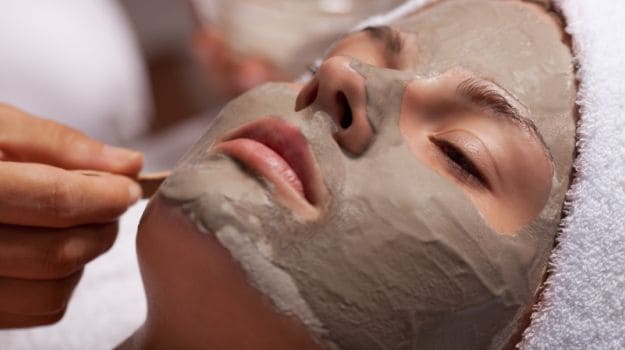 Chamomile helps regenerate skin cells​
2. Sandalwood and Yogurt
Lactobacillus, a good bacterium, does two wonderful things - first, it curdles milk into yogurt and second, it makes your skin shiny.
Take a couple of teaspoons of sandalwood powder, add 3 spoons of fresh yogurt, add a few drops of rose water and your face pack is ready. Keep it on your skin (face, neck and arms) for 15 minutes before bath.
Apart from these, neem or neemba as it is known in Ayurvedic scriptures has been used for centuries; thanks to its various healing properties. Its antibacterial, antiseptic and anti-fungal properties have made it a popular medicine for skin. Use neem as a part of your daily skin care and ensure a healthy skin. You can add it with multani mitti and make a paste of it and apply regularly.
Eat a balanced diet, exercise for at least 30 minutes, use natural ingredients on your skin and you are good to go!
(This content including advice provides generic information only. It is in no way a substitute for qualified medical opinion. Always consult a specialist or your own doctor for more information. NDTV does not claim responsibility for this information.)