Diwali 2015 Gift Ideas: 5 Ways to Step Up Your Gifting Game
Aashna Ahuja, NDTV | Updated: July 13, 2017 13:39 IST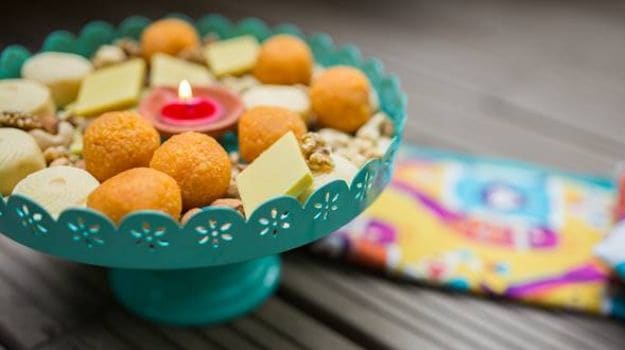 Image Credits: Chumbak

The nip in the air also brings with it a festive buzz to herald the country's most popular festival, Diwali. The 'Festival of Lights' is the season of spreading joy and happiness, one that everyone looks forward to all year long. Diwali season truly just makes everything better, and the most important part of the festivities perhaps, is the custom of gifting. Exchanging gifts during Diwali is an age-old tradition. However, with each passing year, the nature of these gifts seems to be changing quite significantly. While in earlier times Diwali gifts focused on good old boxes of mithai, today it has taken on a different turn. Think: exquisite home decor, gourmet chocolate truffles, teas and hampers galore!

Here's a curated list of the season's best and most unique Diwali gifts, sure to make yours stand out from the crowd! Go on, step up your gifting game.

1. Contemporary Desserts: Every year, we gift our loved ones the best sweets we can get our hands on. And this Diwali, fusion is in fashion. Go beyond ladoos and kheer, and give a yummy twist to your festive desserts! Mad Over Donuts introduces 3 very special flavours this Diwali for a limited period – Motichoor, Kaju Katri and Gulab Jamun. And if that wasn't enough, Krispy Kreme has launched their own Diwali doughnuts (Rs. 500 to Rs. 630) loaded with dry fruits and nuts, including flavours such as pistachio and vanilla and caramelised walnut. Celebrate Diwali with every bite you take! Even Sidewalk at Hyatt Regency, Delhi, has put together an array of desserts including chocolate orange cake, white chocolate cashew nuts and assorted chocolate praline packed beautifully. Go grab your goodies now!Krispy Kreme: 011 4655 2266
Mad Over Donuts: 011 4670 2333
Hyatt: 011 2679 1234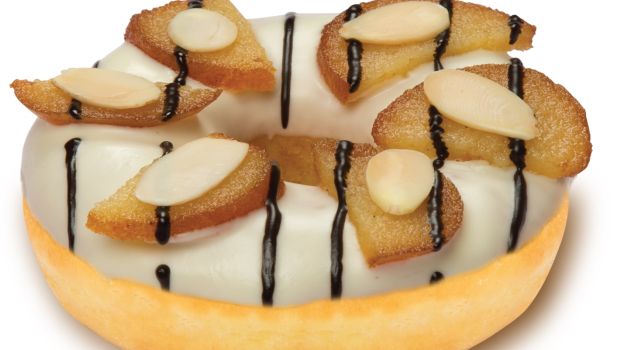 Image Credits: Mad Over Donuts

2. Exclusive Hampers: Specially crafted for the festival, hotels across India have attractively crafted hampers filled with carefully selected bespoke treats. Vivanta by Taj goes all out this year. Loaded with delectable items like chocolates, dry fruits, cigars, organic honey, single estate teas, imported wines, diyas and sparklers, their hampers are too good to be true - ranging from Rs. 3000 to Rs. 8000. The Oberoi Patisserie and Delicatessen in New Delhi too, has created its hampers which can be personalised to create mind blowing Diwali gifts for your loved ones. Served fresh out of the bakery at Le Meridien, Gurgaon, are exclusive gift hampers starting from Rs. 1500 onwards offering irresistible handmade delicacies ranging from muesli bars, home-made milk cakes, almond chocolates, walnut cakes to lemon pound cakes. You can also choose from an exquisite selection of distinct wines, diffuser gift sets, delectable hand crafted Indian desserts and much more to surprise at The Westin Gurgaon.

Oberoi Patisserie and Delicatessen: +91 9711312298
Vivanta by Taj: 022 66650808
Le Meridien: 0124 4992008
Westin: 0124 4977833.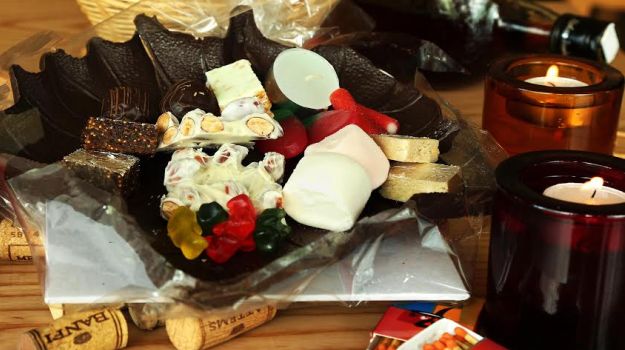 Image Credits: Westin Gurgaon

3. Deck The Halls: No matter how many electric lights you decorate your house with, nothing beats the beauty of a traditional diya, flickering away in all its glory. This Diwali, enhance the beauty of a diya by taking it up a notch. Check out Chumbak's ultra-funky lanterns in gorgeous colours and different shapes. You'll also adore their fun hampers featuring colourful platters, cake stands, napkin holders, coffee mugs and foodie cushion covers. We promise, you won't be disappointed! Go classic with Episode's pretty puja thalis, sterling silver bowls and platters or Casa Pop's quirky hamper featuring wine bags printed with taash, makeup kits, colourful coasters and trays. We also love Urban Dazzle's chic crystal decanters and elVy's rosette platters, regal trays, ramekins and porcelain 2-tier stands to plate up all your goodies.

Chumbak: www.chumbak.com
Episode: 011 29237773
Urban Dazzle: www.urbandazzle.com
Elvy: 0124 4578888
Casa Pop: www.casa-pop.com




4. Beauty Hampers: Pamper your friends and family with Kiehls' specially crafted Diwali gifts priced at Rs. 2995 for her and Rs. 2850 for him, which can be customised according to skin type and preferences. You can also order online from The Body Shop to avail their fantastic Diwali offer of 25% off on any three of their rejuvenating products, such as their Strawberry Body Polish, Tea Tree Oil and Cocoa Butter Body Cream. Along with their luxurious hampers, Forest Essentials has also introduced an auspicious Lakshmi Puja Oil especially for Diwali.

Kiehls: 022 66712837
The Body Shop: www.thebodyshop.in
Forest Essentials: 080 28029635 Image Credits: Forest Essentials

5. Diwali Munchies: Go nuts with Nutty Gritties' really cool and healthy pre-packaged hampers (Rs. 1600 approximately) available online featuring wasabi almonds, sour cream and onion cashews, cinnamon apple mix and BBQ cashews. They also have party snacks and midnight munchies perfect for your Diwali parties. You can also check out a stuffed dryfruit platter (Rs. 2300) and stuffed dates (Rs. 685) at a Nature's Basket store near you. And if that wasn't enough, L'Opera has also introduced jars packed with caramelized hazelnuts (Rs. 1310), nougats and caramel gift boxes (Rs. 1580) and a set of truffles (Rs. 550).

Nutty Gritties: www.nuttygritties.com
L'Opera: 011 43538900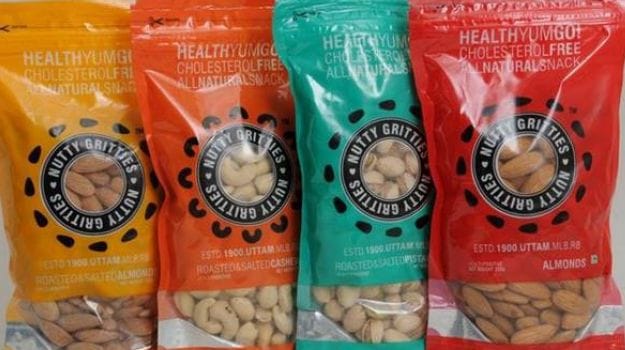 Image Credits: Nutty Gritties