Gond Ladoos, Besan Ladoos, Kaju Barfi, Besan Barfi, Long Rasgullas, Gulab Jamuns (Clockwise, from above the rose petal bowl) | Image Credits: Marryam H.Reshii | Courtesy: SuryagarhTry walking past a mithai shop anywhere in North India at Diwali time. You will be pushed and jostled by milling crowds who may never buy or even consume mithai the rest of the year, but Diwali is inextricably linked with the sweet stuff. Of recent years, chocolates and macarons are threatening to unseat mithai from its bastion during Diwali, but personally, I don't think they stand a chance in the long term. Case in point: Suryagarh, a resort I recently visited near Jaisalmer, has an in-house halwai. Gatta Ram's only job is to make mithai for all the guest rooms. Where most hotels serve chocolates, Gatta Ram uses his expertise to delight guests with badam barfi, gulab jamun and besanladdoos in their rooms. Nakul Hada, the manager of the resort says that the mithai goes a far longer way in recall than even the finest chocolates can achieve.Signature mithai does have very strong appeal indeed. Having studied in Nainital during my formative years, I can never forget the chocolate-like appeal of bal mithai that Kumaon is famous for. The best might come from Almora's Khim Singh Mohan Singh Rautela store, but there were enough shops in Nainital that sold it too. We school girls would eat it in two parts. First, we'd pick off the sugar balls that coated the fudge, then we'd nibble the deep brown fudge as slowly as self-control would permit, to make it last. In U.P., milk is evaporated very fast to make khoya, with the result that the khoya takes on a grainy texture and a deep hue, both of which are prized all over the state. It is the same in Mathura, where the famous pedas are only a shade or two lighter than Kumaoni bal mithai, yet with the same grainy texture (the Hindi term danedaar is far more evocative, while describing texture!). In Lucknow, Ram Asrey's signature Malai ki Gilori plays with the textures of milk: double cream and khoya, to superb effect.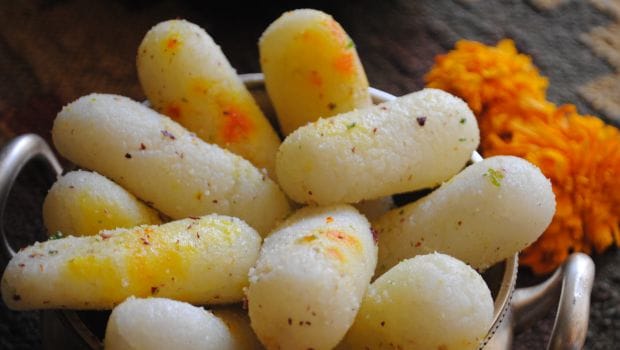 Long Rasgulla | Image Credits: Marryam H.Reshii | Courtesy: Suryagarh
On the other hand, the mithai of Western
Rajasthan
– Jodhpur, Jaisalmer and Bikaner – are based on khoya that has been created by hours and hours of very slowly heating milk. Not only does this result in a golden hued khoya, it is smooth, almost elastic, in texture too. The signature
mithai
in Jaisalmer is a laddoo called
ghotua
, which means mixed and implies arduous labour. It is exactly what the making of this confection entails: plenty of elbow grease. On my first trip to Jaisalmer in 2004, I spied
karigars
actually labouring over combining
besan
(gram flour), sugar,
ghee
and khoya together in large vats with enormous wooden spoons. Because of the general griminess of the surroundings, I hesitated to take pictures: something that I still kick myself for! On many subsequent visits, I have never seen this being done by hand – doubtless machines have taken over. What struck me then, as it does now, is how the golden
ladoos
are the identical hue of the ornately carved exteriors of Dhanraj Bhatia, the landmark
halwai
in the little town.On the other side of the border, Sukkur was famous for its Sindhi
mithai
. Today, a pale imitation flourishes in Delhi and, to some extent Mumbai. Coconut
barfi
and the curious
sev badam barfi
(which is the only Indian sweet I know of that is actually made from a savoury product: sev) are Sindhi traditions. The
besan sev
that is used in the
mithai
is not seasoned with salt, and the
badam
is sliced thinly, but to me it is unique in the world of
mithai
. Cooked slowly so that every trace of moisture is evaporated for a longer shelf life, singar mithai is scented with rose water and is famously gifted to overseas relatives because of the long shelf life. Tharu Mukhi Bhandar in Mumbai and Bharat Sweets in Delhi do quintessentially Sindhi
mithai
like fig-flavoured
katli
, while Delhi's Chaina Ram is famous for Karachi
halwa
that used to be quite an item during my childhood but has now become as unfashionable as say, balushahi.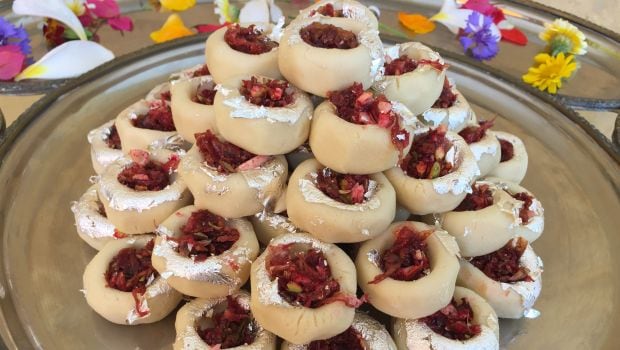 Kaju Katli with Rose Preserve | Image Credits: Marryam H.Reshii | Courtesy: Suryagarh
As long as
mithai
remains synonymous with nutrition (
pinnis
), devotion (
prasad
) and festivity (
gujiya
and
motichur laddoo
), this is one sweet tradition that is in no immediate danger of being supplanted by imports from overseas.
About the Author :
Marryam H Reshii has been writing about food and lifestyle for a quarter of a century! She travels around the country to far-flung tribal villages and long-forgotten corners in search of elusive ingredients, obscure cooking vessels and recipes that are in danger of being supplanted by 'modernity'.
Disclaimer :
The opinions expressed within this article are the personal opinions of the author. NDTV is not responsible for the accuracy, completeness, suitability, or validity of any information on this article. All information is provided on an as-is basis. The information, facts or opinions appearing in the article do not reflect the views of NDTV and NDTV does not assume any responsibility or liability for the same.