Diabetes 2020: Sugar is a big no-no for people dealing with diabetes. But come festive season and it's natural to start craving for all those traditional Indian desserts that suddenly start appearing everywhere around us, even at home. We can imagine how difficult it must be to resist all those tempting sweets. But this Navratri 2020, we urge you to dive into the celebration with full fervour and whet your sweet cravings with sweet but refined sugar-free desserts. After all, festivals are for indulging!


(Also Read: 5 Best Dessert Recipes You Can Try This Festive Season)
5 Healthy Sweets For Diabetes Diet During Navratri 2020:

1. Faldhari Badam Barfi
A sugar-free vrat-friendly barfi for your sweet tooth! Make this healthy barfi with almonds and other dry fruits of walnuts, pistachio and figs. Mawa, nutmeg powder and cardamom powder along with nuts add a dash of sweetness and loads of flavours and health. This is the perfect mithai to add to your puja thali and gorge on later without any guilt. Click here to view full recipe.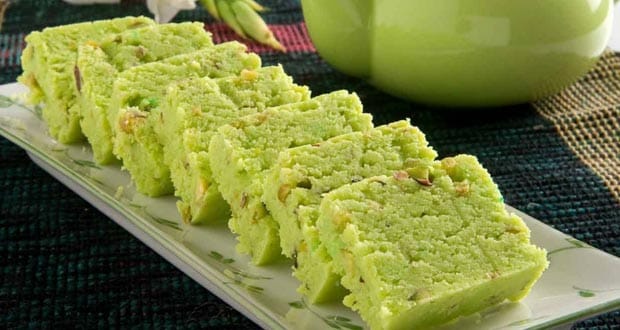 Badam barfi is a delicious option for festive treats.
2. Pumpkin and Apple Halwa
Any Indian festival is incomplete without indulging in a gooey halwa. This Navratri-special pumpkin and apple halwa is just what you should be having during the fasting days. Mashed pumpkin and sauteed apple cooked together and topped with shredded coconut and rich dry fruits are enough to fill your mouth with sweetness even if you skip adding sugar. Click here to view full recipe.
3. Sugar-Free Modak
If you missed relishing modak during Ganesh Chaturthi, you can still satiate your craving during Navratri 2020 with this sugar-free modak. Combine cashew nuts, almonds and walnuts, and sweeten them with seedless dates and raisins. Creamy coconut pieces make this modak all the more better. Click here to view full recipe.
4. Sabudana Kheer
Tapioca (or sabudana or sago) makes for a delicious kheer. But if you want to make it sugar-free, add lots of chopped fruits and raisins to it. You can even make a puree of sweet fruits like banana and add to it. Just make sure to keep the content of even natural sugar to a minimum level. Use the same tips if making samak ke chawal ki kheer. Click here to view recipe.
5. Date And Nuts Laddoo
Mix dates, desiccated coconut and lots of dry fruits like almonds, cashews, walnuts and pistachios together and make the healthiest laddoo for Navratri festivities. We bet you won't be able to stop at having one. Click here for full recipe.
Dates and nuts laddoo is healthy and yummy.
Happy Navratri 2020!