Navratriis that time of the year when Hindus perform ritualistic prayers and worship Goddess Durga and her nine divine avatars. This year Navratri began from 17th October to 25th October and celebrations have begun in full swing. During this nine-day long celebration, many people observe fast, not only for spiritual reasons but also to detox and cleanse their body, mind and soul. When it comes to Navratri fasting, there are only a few things that are allowed like sabudana, samak, makhana, kuttu, and fruits for vrat ka khana. Navratri is also a good time to try different types of drinks as it is believed that this event should be used to detox your body. A refreshing drink made of fruits and herbs will keep your body active and fill it with nutrition. Take a look at these five DIY fasting drinks that are not just healthy, but also quite filling at the same time.
(Also Read: Navratri 2020: Sharad Navratri Date, Significance, Vrat Ka Khana, And Colours For All Days)
Read on to know more about these Navratri special drinks -

1. Watermelon Mint Juice
Watermelon is known to be a great summer fruit as it is made up of 90% water. Whereas, mint leaves give an instant refreshing and cooling effect to our body. Therefore, when these two are combined, it makes for a perfect summer drink that is not only vrat-friendly, but also quite refreshing as well.
How To Make: Cut the watermelon and deseed it. Extract the pulp and put it in a blender. Add mint leaves, roasted cumin powder, black pepper and rock salt to it. Add little lemon juice in the blender. You can skip sugar, if watermelon is already too sweet. Blend it well till it gets a smooth texture. Make sure there are no large pieces of mint leaves or watermelon.(Also Read: Navratri Special: How To Cook These Six Fruits Into Delicious Desserts During Fasts! )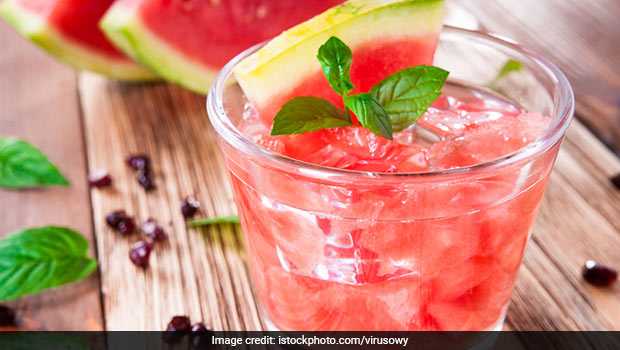 2. Chikoo Milkshake
This drink is the simplest of all and requires only three ingredients - chikoo, milk and sugar. Since the recipe is simple, you can have it every time when you are fasting. This milkshake can keep you and your tummy happy.
How To Make: Wash the chikoo nicely to make its outer layer soft. Peel and chop the chikoo and remove the black seeds. Put it in a blender and add milk to it. Add sugar as per your taste. Blend it till you get a smooth texture. You can have it as your breakfast or as an evening drink.

3. Mango Lassi
Made from ripe, sweet mangoes, yogurt and cardamom powder, mango lassi is a perfect summer drink that you can try this Navratri. Both mango and yogurt are known to have properties that can give you the right dose of energy and control sudden hunger pangs as well. You can even replace it with your breakfast smoothie on regular days. While preparing this drink, make sure the ingredients are already chilled.
How To Make: Chop fresh mangoes and add to the blender. Add sugar, if required. Blend it till you get a perfect smoothie. Add yogurt and ice cubes. You can also add rose water. Blend it again until you have a perfect mix.(Also Read: Navratri Vrat Special: 10 Delicious Recipes Made Without Onion And Garlic )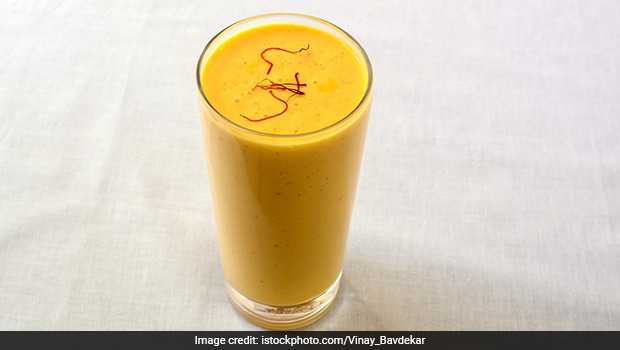 4. Papaya Muskmelon Juice
The most nutritious fruit of the entire lot, papaya is usually loved by adults and kids alike. It is recommended to use ripe papaya to have a good sweet taste. Whereas, muskmelons are rich in vitamin B, which provides us with substantial energy.
How To Make: Chop half papaya and half muskmelon. Put the chopped pieces in a blender and add one tbsp. of lime juice and few ice cubes in it. Blend it well till a smooth texture is attained.

5. Grape Juice
When it comes to grape juice, there is no extra ingredient required to make it. Just like watermelon, grapes are also slushy and have a lot of water content in them. They can keep you well hydrated.
How To Make: Pick the grapes of your choice: red, green or black. Add them to a large bowl/jar and fill it with water. Let it soak for 4-5 minutes. Then put the grapes into a blender and add some lime juice to make it little tangy. Blend it well and serve.
(Also Read:
7 Amazing Benefits of Grapes for Health and Skin
)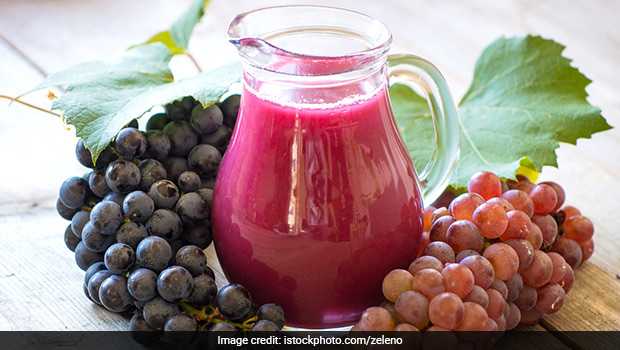 This Navratri, be a little creative and make your own vrat-friendly drinks!
Happy Navratri 2020!
About Shubham BhatnagarYou can often find Shubham at a small authentic Chinese or Italian restaurant sampling exotic foods and sipping a glass of wine, but he will wolf down a plate of piping hot samosas with equal gusto. However, his love for homemade food trumps all.