romantic dinner date, don't mull over it. Go and cease the day! Imagine a dreamy setting, soothing music, a chill in the air, exclusive wines to lift the spirit and beautifully created gourmet dishes to complete the evening. You will win her heart all over again, creating a special memory for life, besides also showing her how much you care.

Bangalore is a city which is known for its pleasant weather. This also makes it the perfect city to enjoy candle light dinner dates by the pool or head to a rooftop restaurant to dine overlooking a spectacular skyline. As such, planning a romantic meal for two is not a tough task. And with a little help from the chef and restaurant staff, you can create the perfect experience.





Wondering what restaurants would be ideal? We present our 10 best romantic restaurants in Bangalore for you to start planning. Here goes -





1. Olive Beach





Olive Beach is regarded as one of the most beautiful restaurant settings in the city. The Mediterranean-themed restaurant with stark white walls and colourful motifs can actually make you feel like you are dining in some pretty spot in the Mediterranean region. And to add to the whole experience, there are Chef Manu Chandra's spectacular gourmet creations to thrill your tastebuds. Good food and dreamy ambience - picture perfect!

Where: 16, Wood Street, Ashok Nagar, Richmond Road, Bangalore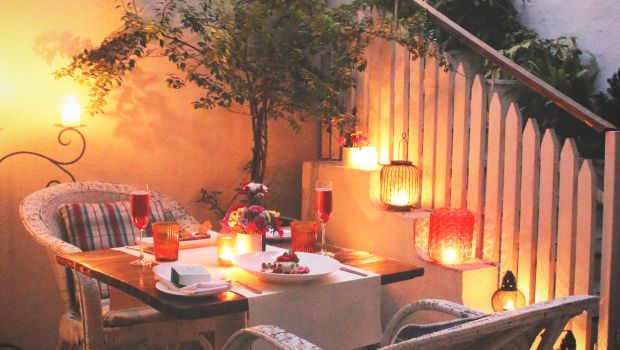 2. Om Made Café
Rooftop made quirky, that's Om Made Café. It is amazing how they have managed to transform a simple space into a peaceful setting where you can enjoy your quiet time, as well as take your special someone over for a romantic meal. If you are planning a casual candle light dinner under the starry sky, this is the place to be. They serve only wines and the menu offers Continental dishes, with plenty of healthy options to choose from.
Where: 136, Rooftop, Above Gold's Gym, 1st Cross, Koramangala 5th Block, Bangalore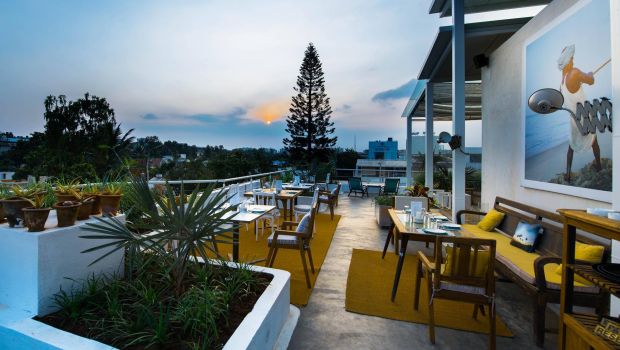 3. Rim Naam
An old time favourite in the city, patrons still can't seem to get enough of the beauty of this restaurant, set amidst a canopy of trees, adorned with pretty lanterns to set the mood. It is a welcome change from all the concrete, and trust The Oberoi's outstanding hospitality to leave no stone unturned to make it a special night for the two of you. If you love Thai cuisine, you will have no complains.
Where: The Oberoi, 37-39, MG Road, Bangalore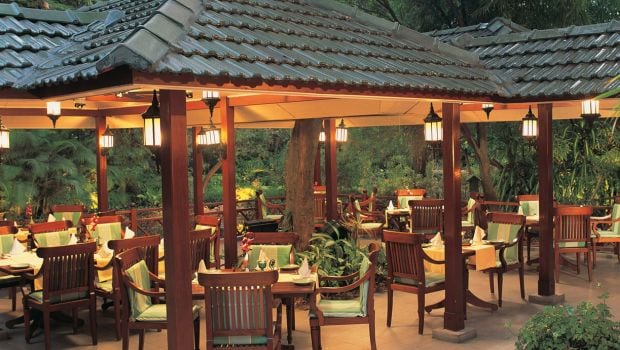 4. Le Cirque Signature
This fine dining restaurant is the perfect venue if you want to pamper your loved one with gourmet dishes and exclusive wines. The luxury setting is bound to impress. Pick a corner table by the dramatic glass window, and indulge in signature Italian dishes that are artfully plated. You can even request the Chef to dish out something super special for your lady love.
Where: The Leela Palace, 23, Old Airport Road, Bangalore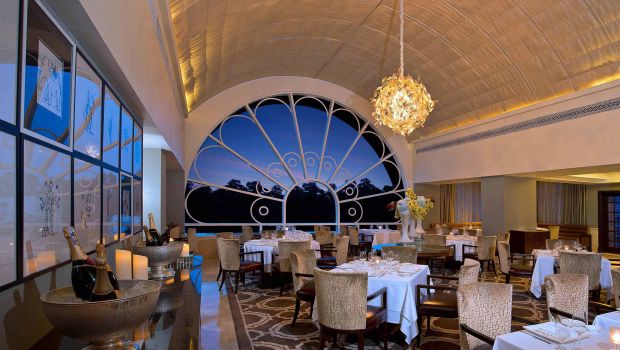 5. The Tao Terraces
Though it is set in a mall, this rooftop restaurant transports you to another world as soon as you step in. The décor is very impressive, with Asian motifs to add to the whole theme. The outdoor section is of course more popular where you can enjoy the cool Bangalore air and dine under the stars. The menu is extensive, offering flavourful Pan Asian dishes to make it a memorable evening. Sushi and dim sum are your favourites? You've hit the right spot!

Where: 5th Floor, 1 MG Mall, Opposite Vivanta by Taj, MG Road, Bangalore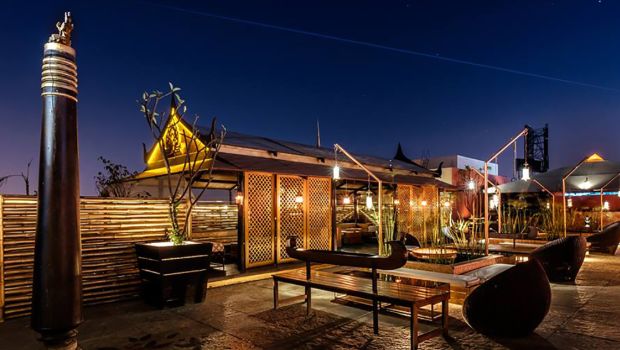 6. Persian Terrace
A little off the grid from the centre of the town, but this place is worth driving to. As the name suggests, the rooftop restaurant has a Persian theme, complete with intricate lanterns and glittery drapes. While you chat over a hookah, the Lebanese classics like kibbeh, hummus, falafel and kabobs are sure to please the taste buds.
Where: Sheraton Grand Bangalore Hotel at Brigade Gateway, Rajajinagar, Malleshwaram, Bangalore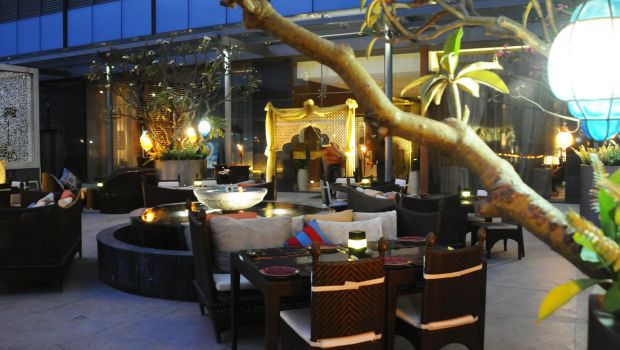 7. Portland Steakhouse and Café
Don't let the name mislead you, making you believe that it will be a loud and noisy grub pub. On the contrary, it is a gorgeous restaurant with a prominent white colour palette that lends to its charm. And the dreamy lighting at night makes it the perfect spot for a romantic dinner date. The menu of course offers excellent steaks, but if you are in the mood for variety, there's plenty of delightful Italian, Continental and American dishes to choose from. Even burgers!
Where: 1, Brunton Road, 1st Cross, Ashok Nagar, MG Road, Bangalore 8. Café Max
Not many know about this place, but those who do love it for its mere simplicity. So when you are not looking for something extraordinary and want a casual yet charming place to take your loved one to, Cafe Max is your pick. The cosy setting with fairy lights to lend to its charm offers hearty Continental dishes such as sandwiches, pastas, pies, quiche, roulade, sizzler, etc. and serves only wine. No frills.
Where: 716, Goethe Institute, Max Muller Bhavan, CMH Road, Indiranagar, Bangalore

9. Spice Terrace
What's on your mind? A romantic dinner by the pool? This swanky restaurant in JW Marriot will fit the bill perfectly. A relatively newer addition in the fine dining landscape of the city, Spice Terrace scores for its minimalist décor yet evoking a sense of grandeur. The food offered is North Indian, and the seafood comes highly recommended.
Where: JW Marriott, 24/1, Vittal Mallya Road, Lavelle Road, Bangalore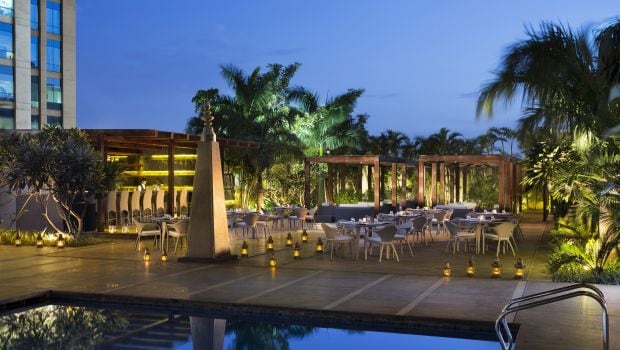 10. Royal Afghan
Like they say old is gold, this old time restaurant still has a loyal fan following. Nestled in the pretty property of ITC Winsor Manor, the poolside restaurant creates a perfect setting for a romantic dinner date. The food is North Indian, and the dishes are meticulously prepared to give you flavours at their best. You also get all the privacy you need to spend quality time with your special one.
Where: ITC Windsor, 25 Windsor Square, Sankey Road, Bangalore

Romance needs no special occasion, everyday should be a celebration. Wouldn't you agree? If you have been meaning to take your special someone out for a