Much before Delhi saw the advent of the several plush and city-sized malls that crowd the city now, Delhi found its ideal haunt in Ansal Plaza. Located at Khel Gaon Marg, Ansal Plaza was one of Delhi's first shopping complexes with high-end brands and showrooms. But, ask any Delhiite and he will tell you that Ansal Plaza has been much more than just a place to shop till you drop. The multiple music festivals and concerts at the amphitheatre, eating out at the many eating joints, or just strolling around in the huge complex; it wouldn't be wrong to say that Ansal Plaza played its own interesting role in transforming how Delhiites perceived shopping. In the past 1-2 years, Ansal Plaza has seen the launch of many
restaurants
, missing out on which would be a crime for foodies. Here are our favourite picks.
1. The Sky High
Looking for a nice rooftop restaurant on South Delhi? Head to The Sky High. If the splendid view is not enough to impress you, the lovely live music sure will. Serving the best Continental, Italian, North Indiana and Mughlai fare, the culinary experience at The Sky High does full justice to its name. You must try their juicy and tender grilled prawns. The Mughlai lovers cannot miss their minced-meat filled tangri kebab and chicken malai tikka. The flavoursome peri peri chicken pizza, mango mojito and delightful chocolate fondue with an accompaniment of fresh fruits are a must-try as well!Where:C-306 A & 307, T-101 & 102, 3rd Floor, Ansal Plaza Mall, Khel Gaon Marg, New Delhi
Cost for two: INR 1800
2. Taksim
The continental restro-bar has beautifully quaint ambience with potted flowers and plants finding a special place in the décor, while the indoor seating is no less impressive. It is the outdoor seating that wins our heart totally. Tandoori momos, dahi ke sholay, butter chicken pizza and more, Taksim impresses with its quirky menu. Don't forget to wet your vessels by picking an interesting mocktail of your choice too.Where: CG 01, Ansal Plaza Mall, Khel Gaon Marg, New Delhi
Cost For Two: INR 2000
3. Masala Trail
Your favourite Masala Trail is in Ansal plaza now! A haven for vegetarians, The Masala Trail, after having made its mark in CP, is in the heart of South Delhi. Redefining Indian flavours, The Masala Trail's extensive all vegetarian menu is a treat to the soul. Amongst the must-haves, here are pretty much all the regional specials: Bihari litti chokha, Benarsi tamatar chaat and Amritsari paneer tikka. But, the very popular tower chaat - made of 'towering' layers of chaat items like golgappas, potato and peas tikki, papri, mint sauce and the special tamarind sauce and yoghurt - is the ultimate treat for all chaat lovers.
Where: B Block, First Floor, Ansal Plaza Mall, Khel Gaon Marg
Cost For Two: INR 900
4. Jom Jom Malay
Asian food lovers raise your hand! Get the taste of authentic Malaysian food at Jom Jom Malay. The oriental ambience of the restaurant is hard to miss. The classy wall paintings, the motifs, lighting and the wooden furniture are sure to impress those who like things to be modern and experimental, but nothing too outlandish. Now to the food, it is said that Jom Jom Malay is Delhi's first authentic Malaysian restaurant. Amongst the must-haves, you have chicken satay, rendang bao (a steamed dumpling stuffed with soft pulled lamb flavoured with rendang curry) and murtabak (stuffed Malaysian pancakes, stuffed with roasted peanuts, curry and browned onions).Where: BG 04, Ansal Plaza, Khel Gaon Marg, New Delhi
Cost For Two: INR 1800
5. Amuse House
One of the newest entrants in Ansal Plaza, Amuse House is enticing people with its quality food and service, and gaining new fans in the foodie circuit with each passing day. This multi-story restaurant is the best bet for people who are looking to enjoy the diverse European flavours in all its glory. The restaurant hosts an avant-garde Al-Fresco dining along with a quaint enclosed dining space. From French style smoked salmon with cream cheese & chives to Turkish kaftan manti, to Moroccan fish tajine with saffron & almonds, French lamb shank clay pot and Italian Smoked Mushroom Risotto, Amuse House and its wide range are sure to impress.Where:C-108, 1st Floor, Ansal Plaza
Cost For Two: INR 1800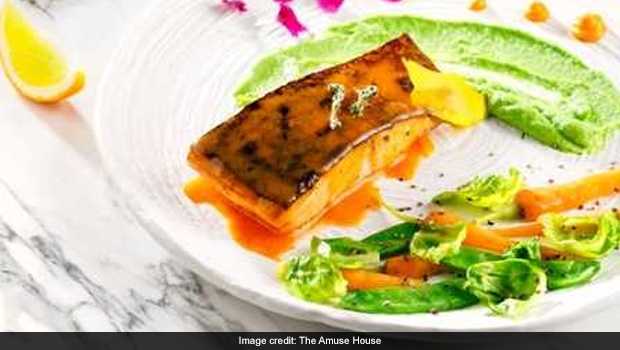 So, what are you waiting for? Gather your friends and get going. Did we miss out on your favourite restaurant in Ansal Plaza? Do let us know in the comment section.