Any snack feels incomplete without a condiment to pair it with, doesn't it? We can't imagine having samosa without imli chutney or chicken tikka without hari chutney! These condiments play an integral part in our snacks, however, we just don't give them the focus it deserves. Therefore, at times, we end up preparing snacks for a party or get-together and remember about the dip at the last moment. What to do in such situations? Fret not, we have come to your rescue! Pair your party snacks with dips that are ready in just 20 minutes.


Also Read: Chinese Samosa, Pizza Samosa And More: 5 Unique Samosas You Should Try This Monsoon
Here're 5 Dips Ready Under 20 Mins:
1.Hummus
Whether you are having it with pita bread, adding it to your favourite sandwich or a wrap, the hummus is an all-purpose Mediterranean dip that has been delighting us for years! The classic hummus recipe consists of boiled chickpeas, tahini sauce made with sesame seeds, lemon juice, olive oil, garlic, salt and pepper - all combined in the form of a thick paste.
Click here for the full recipe for Hummus.
2.Tzatziki Or Greek Yoghurt Dip
Another classic dip from the Middle East, this simple yoghurt dip is an amalgamation of all mellow spices to give a burst of flavours in your mouth. It is made of salted strained yoghurt or diluted yoghurt mixed with cucumbers, garlic, salt, olive oil, sometimes with vinegar or lemon juice, and herbs such as dill, mint, parsley and thyme.


Click here for the full recipe for Greek Yoghurt Dip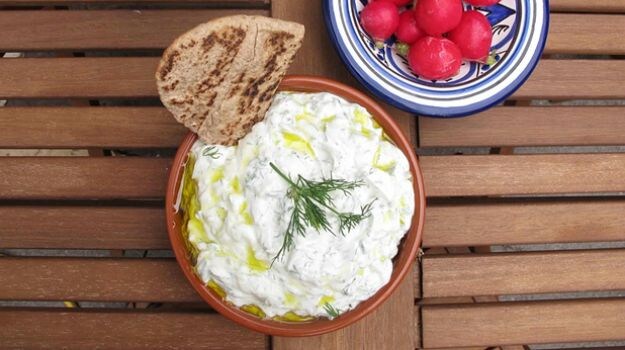 3.Guacamole
An all-time favourite for foodies all around the world, the Mexican guacamole makes for a tangy and sour dip giving an extra kick of flavour to your food. You can pair it with nachos or add it to tacos, burritos and more!


Click here for the full recipe for Guacamole.
4.Restaurant-Style Hari Chutney
If you are someone who loves the hari chutney in restaurants, then this chutney recipe is a must for you! To make this finger-licking good chutney, all you have to do to grind together the ingredients of the hari chutney and add the creamy goodness of yoghurt.


Click here for the full recipe for Restaurant-Style Hari Chutney.
5.Coconut Chutney
Off white in colour, thick but consistent, grainy in its own right and blessed with crisp curry leaves, mustard seeds and whole red chillies, the coconut chutney is one of the most loved South Indians within the Indian cuisine. While it is often paired with idli, vadas and dosas, one can also enjoy them with pakodas and samosas.


Click here for the full recipe for Coconut Chutney.
Try out these yummy dips under 20 minutes and let us know which one you liked in the comments section.