Coconut chutney: A side dish or a main dish? Well, we are sure that it isn't that tough to answer this question because this simple delectable 'side dish' has a lot of subtle flavours to offer. While some prefer to pair it with south Indian dishes, there are people who prefer anything that comes along with it. If you are sure to eat curd in the morning for breakfast in a north Indian menu, you are sure to eat coconut chutney with a south Indian meal. So, the obvious question is: doesn't one get bored with this condiment being served with almost all breakfast choices? Well, you can interrogate any coconut chutney lover and the only answer you will get is "no, it is just too good to get bored of." This special condiment not only adds flavour to your food but also enhances the taste of the very tangy and spicy sambhar that naturally goes with it. While almost every state or district has a different recipe of this very versatile 'side dish,' we have a popular version of the chutney for you that is easy-to-make and as delectable as the main dish that you chose to pair it with. (Also Read:
10 Amazing Coconut Milk Benefits for Hair, Face and Skin
)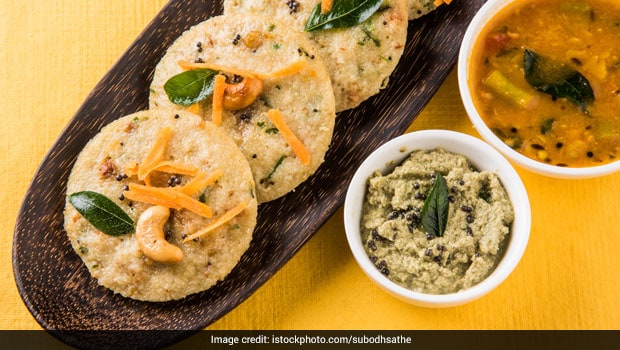 Ingredients:
1 raw coconut, peeled and chopped
1 bunch of chopped dhaniya (cilantro)
3 green chillies
2 small lemon
Salt (as per taste)
Tadka Ingredients:
3 tsp oil
A pinch of red chilli
(Also Read:
10 Best Coconut Recipes​
)
How To Make Coconut Chutney At Home
Take one raw coconut and crack open it. Do away with the inner meat. Now, with a help of a vegetable peeler, remove the hard skin off of the inner white flesh. Make sure you wash it before you cut it into small pieces.
Now, in a mixer add the coconut pieces, dhaniya (cilantro), green chillies, lemon juice and 4 tablespoon of water. Mix all the ingredients until you get a fine paste.
Pour the chutney into a bowl and add water depending on how thick you want its consistency to be.
Now, time to make the tadka.
Heat oil in a small frying pan and add mustard seeds to it. Turn off the stove when you see the mustard seeds popping. Add red chilli powder as per your taste.
Now, add the tadka to the chutney and mix it will. Your coconut chutey is ready to be savoured.
Pair your coconut chutney with your idli, vada, dosa and sambhar. Bon apetit!
About Shubham BhatnagarYou can often find Shubham at a small authentic Chinese or Italian restaurant sampling exotic foods and sipping a glass of wine, but he will wolf down a plate of piping hot samosas with equal gusto. However, his love for homemade food trumps all.