If you're a cheese lover just like us, then you know there's no such thing as too much cheese! Be it a plateful of cheesy pasta, a juicy burger, pizza, omelette or crispy fried snacks and more - you name it. Add some extra cheese to a dish and it instantly makes it taste better. Don't you agree? And what better time of the day than evenings to treat yourself to delicious food? After a long and tiring day, we deserve some yummy snacks to relish with our evening tea in the company of our loved ones. If you're wanting to indulge in some delicious cheesy snacks, we have found some easy recipes that are sure to leave you drooling! You can make these snacks in just under 30 mins in the comfort of your kitchen. So, without much ado, let's get started with the recipes.


Also read: 5 Desi Cheese-Filled Recipes To Make Snack-Time Better
Here's A List Of 5 Cheese-Filled Snacks You Must Try:
1.Cheesy Bread Roll (Our Recommendation)
Who doesn't love a good old bread roll? Crispy from the outside and juicy on the inside - it makes for a perfect evening snack. This bread roll recipe has cheese oozing out of it and spells indulgence in every bite. Click here for the recipe.
2.Masala Cheesy Pav


Pav is one snack that is extremely versatile. Keema pav, pav bhaji, misal pav and more - it never fails to disappoint our taste buds. If you're someone who loves spicy and cheesy snacks along with their evening cuppa - then this masala cheesy pav is a must-try! Click here for the recipe.



3.Schezwan Cheese Balls


Bored of having regular cheese balls? Amp up your snack-time experience with these schezwan cheese balls. It combines the goodness of mashed potatoes, veggies, spices and tangy schezwan sauce. Click here for the recipe.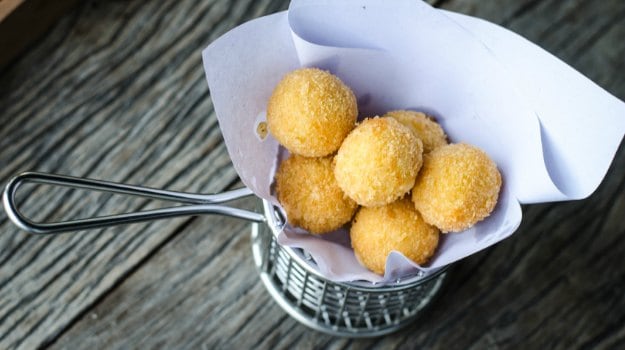 4.Cheesy Pasta Cutlet


Here we bring you a unique yet delicious recipe. This cheesy pasta cutlet makes for an interesting fusion snack for your evenings. If you do not have pasta, you can also use macaroni. Pair it up with a garlic dip and enhance its taste. Click here for the recipe.



5.Mozzarella Cheese Sticks


Mozzarella cheese sticks are an all-time favourite snack. Cheese strips are coated in egg and breadcrumbs and deep-fried until golden brown. Make these delectable crunchy delights right in your kitchen with this super easy recipe. Find the recipe here.
Make these delicious cheesy snacks for your next tea-time indulgence. Let us know which one you liked the best in the comments section below.