After a long and busy work week, the weekend is finally here! We can finally spend some quality time with our families and friends, unwind and relax, watch our favourite shows and read our favourite books. Needless to say, food is an integral part of our weekend plans. Whether we devour a wholesome pizza or wolf down some delicious Tandoori momos, there's so much to choose from. Rice too is an amazing ingredient that can be played around with and cooked in multiple tasty ways. We have collated a list of some lip-smacking one-pot rice recipes that you can whip up for weekend indulgence. These are recipes that would be the star of your feast or house party. Trust us, you would definitely return for a second helping!
Here Are 6 Amazing One-Pot Rice Recipes For Weekend Indulgence:
1. Hyderabadi Biryani
No mention of Indian rice dishes can be complete without biryani. One of the most popular one-pot delights, biryani makes for a fulfilling meal every single time. This Hyderabadi murgh dum biryani is one of the most-loved biryani recipes and will be the show-stopped of your weekend spread. Click here to access the full step-by-step preparation.
2. Matka Pulao
Another famous one-pot rice dish, pulao too never goes out of style. A host of spices and vegetables are cooked in a matki in a truly authentic style for earthen flavours. The best part is that you don't even marinate the ingredients, thus saving on crucial prep time over the weekend. Find the full recipe here.
Also Read: 7 Chip And Dip Combinations To Include In Your Weekend Binge
3. Egg And Garlic Fried Rice
Got leftover rice from last night's party? Whip up this classic and tantalising recipe for egg and garlic fried rice at home with a few simple ingredients. The easiest preparation method will yield maximum taste and guaranteed delicious results. Click here for the full recipe.
4. Allahabad Ki Tehri
One of the most famous one-pot rice meals of India, Allahabad ki Tehri is a must-try. Aromatic and filled with wonderful spices, it is a wholesome recipe to add to your weekend menu. Garnish it with a drizzle of ghee and enjoy it hot and fresh. Find the full recipe here.
5. Mexican Rice
In the mood for something different? This wholesome Mexican rice recipe is a tangy and tempting treat that you can relish. It will be ready in a matter of minutes and will taste best with nachos, salsa and guacamole paired as accompaniments. Enjoy the weekend, Mexican-style. Click here for the full recipe.


Also Read: Weekend Binge: 5 Unique Pizzas You Can Make Under 30 Minutes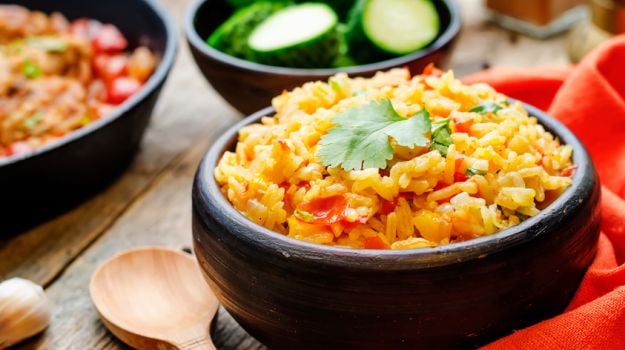 6. Mutton Tahari
Lavish and indulgent, this juicy mutton tahari is one of the ideal recipes for weekend indulgence. Even though it is a mutton dish, it does not require too much tedious preparation or cooking time. Find the full recipe here.


Here's wishing all our readers a happy weekend!
About Aditi AhujaAditi loves talking to and meeting like-minded foodies (especially the kind who like veg momos). Plus points if you get her bad jokes and sitcom references, or if you recommend a new place to eat at.