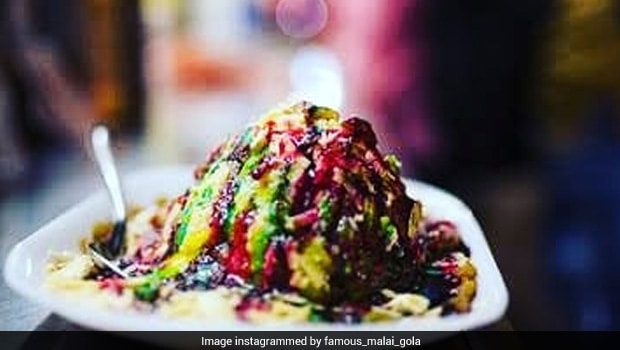 barf ka gola, was luring people with its exotic flavours and vibrant colours. It was then and it is today, barf ka gola continues to tempt people. Ice-candy is enjoyed by people of all age-groups, especially in a hot and humid city like Mumbai. Talking about ice-candies, or golas, another exciting variation of the same is malai gola. A crushed ice ball plunged into colourful sherbets of different flavours, topped with spoonful of fresh cream, milkmaid and nuts is definitely hard to resist. We give you six best places in Mumbai where you can enjoy ice malai gola! Read on to know more about them.

Mount Gola

If you happen to be strolling around the queen's necklace of Mumbai, make sure to stop by at Mount Gola in Nariman point. This gola shop offers an interesting mix of golas, from refreshing mango flavour to sweet and sour orange flavour. And, the best part is that they keep on refilling your glass with flavoured juices.
Where: Nariman point beside Cream centre
Timings: 7 pm to 2 am

(Also Read: How to Make the Famous Street Style 'Golas' at Home)

Sri Krishna GolewalaOne of the famous beaches of south Mumbai, Girgaun Chowpatty is brimming with exotic street food stalls and drawing foodies from all over the city. But, to eat the best malai gola, head straight to Sri Krishna Golewala stall, which is known for amazing golas. But, if you feel like trying out some more variety, try their haapus mango flavour for sure.
Where: Girgaun Chowpatty Gola Stalls
Timings: 2 pm to midnight

Snackeria Food Hub

If you are someone who loves shopping and know all the good places to shop in Mumbai, then Snackeria Food Hub is not a new place for you. Known for its amazing ice golas, Snackeria Food Hub is on everyone's bucket list. Ice golas here are prepared in the most hygienic way, so you don't have to think much before wolfing them down.
Where: Clare road, opposite Cotton World
Timings: 11 am to 11 pm


Islam Gymkhana Golewala

Looking for late night dessert options? Fret not, we've got you covered. Islam Gymkhana Golewala, a lively little stall tucked at Marine Drive, is active till couple of hours late at night. Don't go by the size of the stall as it may beat the best of gola shops in Mumbai when it comes to taste and quality. Try their refreshing kala khatta, and butterscotch with malai flavour.
Where: Outside Islam Gymkhana ground
Timings: 10 pm till midnight

Brijwasi Gola Point

Juhu beach is another favourite spot for all the gola lovers of the town, so it's not surprising to find amazing golewalas. All the gola stalls are quite old and come with a unique offering. Having said that, try giant-sized golas at Brijwasi gola point, which are unusually big and juicy.
Where: Juhu beach food stalls
Timings: 12 noon to midnight

Shreeji Golewala

Located at Hiranandani towers in Navi Mumbai, Shreeji Golewala is a popular gola point. Why, you ask? Shreeji Golewala serves his golas dipped in thick flavoured syrups, topped with dry fruits, which are definitely going to tingle your taste buds.
Where: Hiranandani towers
Timings: 7 pm to midnight

So, welcome the summer season by chilling at these Mumbai's favourite ice malai gola spots as there is no better excuse of pampering your taste buds with multiple scoops of ice golas topped with layers of cream and dry fruits!



Even before when the big brands of ice creams entered India, ice-candy, or indulgently known as