One of the very first illicit pleasures I enjoyed was way back when I was a young schoolgirl. I remember that it was a Thursday (or maybe it was a Tuesday?). Anyhow, it was the school's weekly PT day, and students had come garbed in their PT uniforms, ready for the drills to be thrust upon them. The girls' uniforms were snowy white, a recipe for
disaster, as I was soon to find out. Equally important to this story is that fact that it was a sultry summer day, one of those just before the
monsoons were about to smother Mumbai, and hence my PT session had gone completely awry.I didn't march in time, I tripped up another classmate (by mistake!), and worst of all, while swinging my arms wildly, I almost took my teacher's eye out. I was cross, and my teacher's subsequent scolding did nothing to temper my rebellious frame of mind. But what was the utmost form of rebellion I could hope to achieve? Naturally, they were the forbidden pleasures of an ice gola! For the very first time in my life, I marched over to the golawala who had parked his cart outside my school, and demanded a
Kala Khatta Gola
. Icy, sweet, astringent, with a squeeze of lemon, it is the perfect antidote to a vexing day, and the perfect act of rebellion against my parents who had warned me of the gola's attendant perils of
diarrhoea
and typhoid. (Also Read:
9 Interesting Ice Cube Ideas To Beat The Heat This Summer
)
Ice Gola: Summer's are incomplete without the many hued and delicious ice golas by the street Setting off for home nonchalantly, I assumed my secret would be safe. Alas! I had failed to notice a huge splotch that had stained my white uniform. I got the dressing down of my life that day. After my school days, my
gola
game cooled a little. That is, until my cousin persuaded me to try the one at Soam in Mumbai. "It's delicious, and totally safe," she urged, pressing the menu on me (my friend, a Delhi-wali, called it
chuski
). "They make it with filtered water." I took her at her word, and ordered (what else) a kala khatta gola. And just like that, I fell back in love with it.My penchant for Kala Khatta Ice Gola probably stems from the fascination I hold for jamun (the flavour is derived from the
jamun fruit,
then sweetened), but of course, other
gola
flavours abound and are equally delicious. Lurid orange, tart green mango,
rose
, the (somewhat off-putting) pineapple, strawberry, guava, watermelon, chocolate,
paan
, falooda — you name it, they have it. Friends have even told me about intriguing Malai Golas that are served with dry fruits, and sound like a royal treat of sorts. It is said to be a Gujarati innovation.(Also Read:
Try These Different Flavours Of Ice Golas At Home
)
Where to Get the Gola
Mumbai is pockmarked by
golawalas
, especially Girgaum Chowpatty, Shivaji Park, Juhu and Gorai
beaches. There's something primal about a cold, slurpable
gola
on a sandy beach in summer, and the Chowpatty
golawalas
have milked this feeling to the hilt. Most famous of all is the Jumbo Gola served by Jai Jawan Stall; five gola spheres come precariously perched one above the other. Jai Jawan also advertises its
chocolate ice cream
gola
on its 'Must Try' section. Unfortunately, I haven't succumbed yet to that. Those who want to partake of the gola in slightly more salubrious locations, may simply cross the road from Chowpatty beach to Gola Mount. This tiny shop, with its rows and rows of jewel-hued syrups, stocks an unbelievable variety of
flavours, including sugar-free versions for the health conscious.Much further north, in Dahisar, there is a dessert-focussed eatery named Gogola, so you know exactly what to expect from them. They serve all sorts of
golas
, including
khus, kokum
, Mumbai
masala
and Blue Lagoon. They also offer dish
golas
in all manner of flavours — for instance, Divine Rose which is made of rose,
mawa,
dry fruit and thickened milk; and Malted Butter Scotch (made with butterscotch instead of rose).
Gola goes posh
Contemporary iterations of the
gola
have now entered the menus of hip restaurants, too.
Farzi Cafe
serves their
chuski
margarita in a margarita glass, and it is flavoured with lime juice and
kacchi kairi
. At the White Owl Brewery and Bistro, craft beer and cookies (Craft Beer Popsicle) come together for a rather adult twist on this childhood classic. Even posh private parties now offer souped-up gola stands for their guests. Vodka
gola
, anyone?
How to make Golas at Home
Naturally, making a gola at home doesn't require too much effort. All you need is crushed ice and some sort of taste-making syrup, to drench the ice in. The syrup of course, can be whatever flavour you like - this one here is (you guessed it) Kala hatta.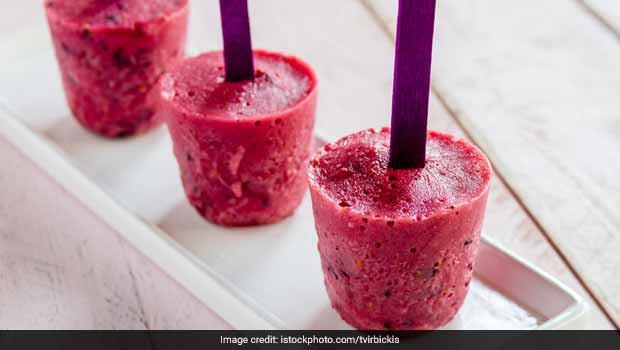 Ingredients:
Jamun 150 grams, deseededSugar 50 gramsKala namak- to tasteLime juice - to tasteA block of ice
Method:
1. Cook the sugar and the jamuns together for about five minutes until the sugar melts and the jamuns become softer and start releasing their juices. This will sweeten the fruit, and remove its astringency. Strain, then add a squeeze of lime and a pinch of
kala namak
, as per your taste. Cool for a little while, then keep in the fridge.2. To make the ice, you will need a large block of ice. Now there are two ways to make the crushed ice; but you will have to be quick, because the ice is bound to melt super quickly. One way would be to grate the ice, into a pre-cooled container. The other way would be to put it in a blender, and crush it quickly, making sure it doesn't turn to water. There is a third way- wrap a clean cloth around it, and smash it.3. The next step is to quickly pack it around your
gola
stick with your hands. Or you could just pack it all into a glass and pour the syrup on top. Either way, your
gola
is now ready!
About the Author: Meher Mirza is an independent writer and editor, with a focus on food and travel. Formerly with BBC Good Food India, she loves anime, animals and artsy things but also comics, technology and death metal. Disclaimer:The opinions expressed within this article are the personal opinions of the author. NDTV is not responsible for the accuracy, completeness, suitability, or validity of any information on this article. All information is provided on an as-is basis. The information, facts or opinions appearing in the article do not reflect the views of NDTV and NDTV does not assume any responsibility or liability for the same.