Punjab and its fondness for lassi needs no introduction. No Punjabi meal is complete without a tall glass of that creamy and milky delight loaded with the richness of
malai
. In several North Indian households,
lassi
is a staple during lunch where it is relished in tall brassware glasses. Besides its refreshing flavour, it also makes for the perfect thirst quencher. There can't be better way to indulge than devouring a glass of this churned goodness. Here are 7 places in Delhi where you can find the most delicious variety of lassis.
1.Bille Di Hatti Bille di Hatti is the perfect place to satisfy your indulgent Punjabi cravings. The tall glass of sweet lassi with a generous dollop of malai on the top is rich and filling. You must enjoy it with either their Choley-Bhature or Poori-Channa. Make sure you head to this pocket-friendly gem in Kamala Nagar with enough room in your tummy.
Where: 72-D, Kamla Nagar
Cost for a glass of Lassi: INR 30(Also Read: 5 Best Lassi Recipies:The Ultimate Summer Cooler from Punjab)
2.Baba Nagpal Corner
Renowned for its iconic Choley-Bhature in Lajpat Nagar, it offers a huge and delicious glass of lassi at just rupees 25. They also serve lassi in interesting flavours like mango and strawberry. Creamy, flavourful and indulgent, this glass of lassi is a perfect companion to their decadent Channa-Bhatura and Kachori.
Where: 7/25, Old Double Storey, Gupta Market, Lajpat Nagar 4
Cost of glass of Lassi: Starts from INR 25
3.Aggarwal LassiFresh, creamy, thick and delicious. You'll find it hard to finish their big glass of lassi, but you are sure to head back home with big smile.
Where: Sadar Bazar, Delhi Cantt., New Delhi
Cost for one glass of lassi: INR 60

4. Amritsari Lassi WalaTake a sip of their frothy lassi and you'll immediately be transported to the vivid lanes of Amritsar. They offer an extensive variety of lassis which is sure to leave you spoilt for choice. Choose from kesar, mango, jeera, strawberry, banana, badaam and much more.
Where: Shop 295, Fatehpuri Chowk, Chandni Chowk, New Delhi
Cost For a glass of Lassi: INR 40 onwards

5. Hemchand Ladli Prasad Mishthan Bhandar
Tucked away in the lanes of Chawri Bazaar, Hemchand Ladli Prasad Mishthan Bhandar is renowned for their amazing hand churned lassi. They also specialise in milk products like Milk Cake, Barfi and Rabri. Having been in the business for a good 80 years, the specialty lies in their ingredients, most of which are produced in house. Right from the curd to the milk, this glass of frothy goodness will leave you wanting more.
Where: Shop no. 366, Kucha Ghasiram, Chandni Chowk
Cost for a glass of lassi: INR 40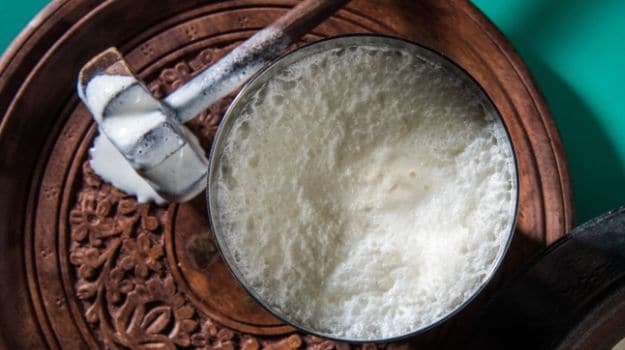 6.Meghraj and Sons
Going strong since eight decades, Meghraj and Sons has attained an iconic status for their delicious sweetmeats made in pure desi ghee. Giving a fair competition to their desserts are their flavoured and wholesome lassis. With flavours like Rose Badaam, Kesar Badam, Namkeen and Malai Lassi, they gives you several reasons to revisit them.
Where: 292 and 293, Fatehpuri Chowk, Opposite IDBI Bank, Chandni Chowk
Cost of a glass of Lassi:INR 45
7.Cool Point
Famous for its delectable Shahi Tukda and mouth-watering Phirni, this 25-year old shop, serves one of the most creamy and frothy lassis in Old Delhi. Their kesar milk and badaam milk, served with crushed almonds, pistachios and nuts are also worth trying.
Where: 973, Bazar Matia Mahal, Jama Masjid.
Cost for a glass of Lassi: INR 30
The signature touch these joints lend to the ultimate summer cooler is sure to make you pick a glass irrespective of the season (and even if you don't intend to!).
About Sushmita SenguptaSharing a strong penchant for food, Sushmita loves all things good, cheesy and greasy. Her other favourite pastime activities other than discussing food includes, reading, watching movies and binge-watching TV shows.