House parties have become a sort of a social trend and why not?! It's a great way for everyone to get together and enjoy the time over hearty conversations and food of course. Starters play a dominant role in organizing a party menu. There are so many recipes one can prepare as starters; for instance, bread roll, chilli potatoes, paneer tikka and more. Adding to the list of these delectable starter recipes, here we bring you some more delectable vegetarian starter recipes that can be prepared at home in lesser time and energy. Besides planned house parties, all these snacks are also perfect for those movie nights with friends or family or when you have unexpected guests coming over. Without any further ado, let's get started with the recipes now.
Here's A List Of 7 Vegetarian Starter Recipes You Must Try:
1. Homemade Bruschetta: (Our recommendation)
If you are planning to try something out of the box, this recipe is the one you must try. With this easy-peasy recipe, you can ace the art of making bruschetta at home that is both delectable and healthy. Wondering how? Click here.
2. Onion Rings
Next up we bring you a yummy recipe of onion rings that everyone will love! This easy, quick and delicious recipe has a simple process and requires minimum ingredients to be cooked. Click here for the recipe.
3. Poha French Fries
If you are someone who is always looking for something new and an experimental recipe to treat your guests, we have a surprise for you! Here we bring a super delicious snack recipe that will give a spicy Desi twist to the much popular French fries. It is called Poha French Fries. Yes, you heard us, right! Find the recipe here.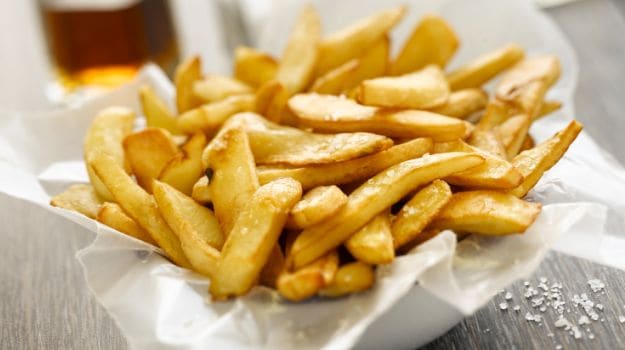 4. Pizza Chips
Is it pizza? Or, is it chips? Well, it's both! This pizza chip is a delicious snack that will satisfy your cravings for eating a pizza as well as crispy chips. Find the recipe here.
5. Tawa Bread Rolls
Enough of deep-fried bread rolls, now is the time to try a healthy yet delicious version of bread rolls. Enjoy this tawa bread roll without any guilt. Try it out! Click here.
6. Chilli Garlic Potato Bite
These chilli garlic potato bites have spicy and sharp flavours infused with roasted garlic that makes it a winner recipe on any occasion, party or get-togethers. Click here for the recipe.
7. Potato Rings
Potatoes are one of the easiest things to prepare. You can give it any shape, add any masala, meat or veggie and it will undoubtedly adapt to its taste. Here we bring you a potato rings recipe that is both easy and quick to make. Click here for the recipe.
Try these recipes as your next house party treats and let us know the experience in the comment section below.