A New Way to Preserve Bread for Longer
NDTV Cooks | Updated: June 05, 2014 19:03 IST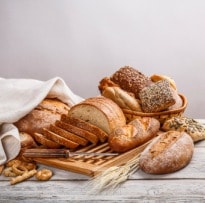 All bread lovers will agree that bread is delicious. It's one of the quickest and easiest ingredients to use and can be had for breakfast, lunch, dinner or even as a mid-meal snack. But you should also know that the loaf of bread you buy contains certain preservatives for better taste or to increase the shelf life.

Till recently, preservatives were the best and probably the only option available to help preserve bread. But they're no longer considered safe. They expose bread to bacteria and fungal problems and are also helpless against bad weather and other impurities that may affect the quality of bread.

With time, technology and science have advanced. And so have our preservation methods. According to researcher Nilda de F.F Soares, Federal University of Vicosa in Minas Gerais, Brazil, "The search for new ways to keep packaged food from spoiling has led some scientists to essential oils which can keep bacteria and mold at bay."

According to a study that appeared in the Journal of Agricultural and Food Chemistry, new edible films containing oils from clove and oregano can preserve bread longer than commercial additives. These oils have already been incorporated into edible films but scientists still needed to optimise the effectiveness of these films and test them under real-life conditions for other uses. For this purpose, they bought preservative-free bread and placed some slices with essential oil-infused edible films in a plastic bag. To the other slices, a commercial preservative containing calcium propionate was added.
After 10 days, the latter additive lost its effectiveness, but the edible films made with clove and oregano oil continued to slow mold growth. Scientists are now considering these films as a more healthy way to preserve food.

With inputs from IANS