Prepare your sweet tooth for a double hit of golden syrup goodness in the form of chewy, chocolatey cookies and a comforting loaf cake to fortify you against the autumn breeze.

When I think of baking, I think of the famous tin of golden syrup: deep emerald green, resiliently old-fashioned and half-welded to the cupboard shelf by the thick rivulets slumped down its sides. It's the taste of my childhood baking: dusted off and prised open on rainy days for a round of flapjacks, cookies or cakes, before being returned to the larder for the next time boredom struck. Like lurid custard powder and packets of decade-old blancmange mix, it was one of the few ingredients we always had in the house - in no small part, I suspect, because it was the only thing I've ever found too sweet to just illicitly eat by the spoonful.
Golden syrup is made by "inverting" a normal sugar syrup. Although a great deal of chemistry is involved in the process, for now it'll suffice to say that it's the conversion of sugar as we know it - crystalline sucrose, like you might put in your tea or on your cereal - into glucose and fructose. Because the chemical structure of the sugar changes in this reaction, you'll find glucose syrup has different properties to granulated sugar when baking. While it helps to keep cakes and biscuits more moist than usual, it can give a denser texture and limited rise. It's sweeter than ordinary sugar, too, so can leave bakes a little sickly if not used in moderation. The recipes below will, I hope, showcase the best of golden syrup: first in chewy cookies, then in a sticky loaf cake.
Chewy ginger, orange and dark chocolate cookies
It's the golden syrup in these biscuits that keeps them delectably chewy, and mixed with the soft brown sugar it lends a mellow, toffee flavour, too. This is one of my favourite flavour combinations for these cookies, but this really isn't a recipe where you need to feel hidebound by someone else's preferences - as long as you stay true to the rough ratios of the cookie dough itself, you can substitute and swap in different flavours, fillings and toppings however you please.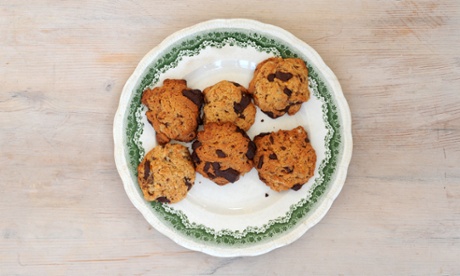 Makes 20-24
50g golden syrup
150g light brown soft sugar
90ml almond or corn oil
1 tsp vanilla extract
60ml milk
210g plain flour
¼ tsp bicarbonate of soda
¼ tsp salt
100g candied ginger
100g dark chocolate, chopped into small chunks
Zest of 1 orange
1 Preheat the oven to 180C/350F/gas mark 4 and line a couple of large baking trays with parchment.
2 In a large bowl, stir together the golden syrup, sugar, oil, vanilla extract and milk until smooth. Mix the flour with the bicarbonate of soda and salt, then add this to the wet ingredients. Stir until the ingredients are barely combined, then add the candied ginger, chocolate and orange zest.
3 This cookie dough is a lot looser than some others you might be used to - rather than rolling or cutting out the cookie portions, you'll have to spoon the mixture out. Dollop teaspoons of the batter on to the prepared baking trays, spacing well apart, as you'll notice that the batter tends to spread.
4 Bake in the preheated oven (in batches, if necessary) for 15-17 minutes, until the cookies' edges are golden brown and the centres are puffy. Leave to cool and firm up on their trays for 10 minutes or so before carefully shimmying them on to a wire rack to finish cooling. They'll set harder as they cool, so don't worry if they're soft just after baking.