You biting into this fried, extremely crunchy yet oily
samosa
served to you, which makes such a perfect and blissful moment. Undoubtedly, the taste of
fried foods
is hard to match up to. But consuming too much of your favourite oily foods will surely lead to health risks. According to the study conducted by Leah Cahill, research fellow in the Department of Nutrition at the Harvard School of Public Health (HSPH), people who eat a lot of fried foods may have a higher risk of type 2
diabetes
and heart disease. With each reuse,
oil
becomes more degraded, and more gets absorbed into the food, which can contribute to weight gain, higher cholesterol and higher blood pressure, which are all risk factors for type 2 diabetes and heart disease.
Do not be disheartened already, consume your favourite foods without using oil, bake them instead! Baked foods is the healthier version that you can eat anytime you want without thinking about the consequences. We are not asking you to completely abandon fried food, but we would want you to choose healthier eating habits. Read on as we tell you how you can bake some of your favourite fried foods and relish them anytime.(Also read: 10 Best Baked Chicken Recipes)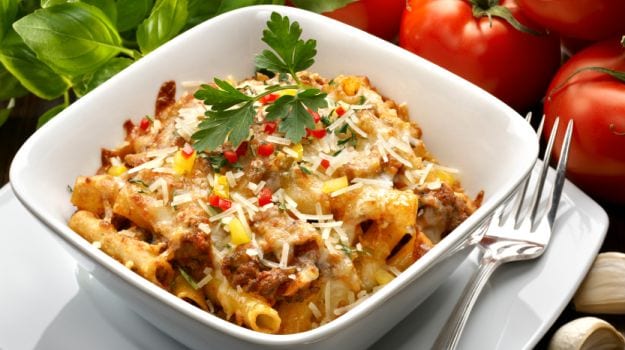 1. French Fries
Snacking on crunchy French fries is the best way to pass time. Try a baked version this time and see the difference. It won't be dripping oil and will be a lot tastier than the fried version. You wouldn't have to worry for the excessive oil and calories.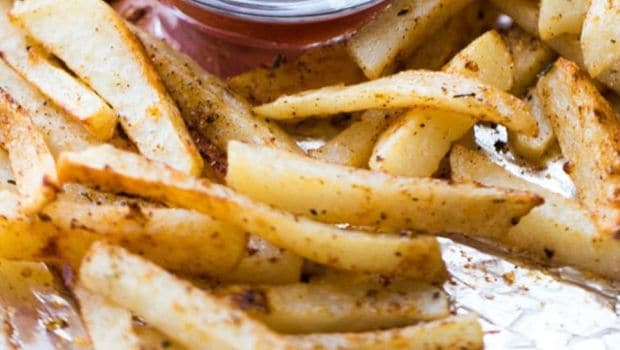 Photo Credit: Simply Stacie/Facebook
2. Samosa
Our desi selves may not allow us to have a baked version of samosa, but consider trying it and you will never want to go back to the oil-soaked Indian delicacy. By choosing the baked ones, you opt for a healthier lifestyle and of course can relish two rather than just one.(Also read: 5 Reasons to Quit Eating Heavy Evening Snacks)

3. Fish and Chips
The love for fish and chips can never die and the urge to eat it more often can disappoint you, because you wouldn't want to eat a lot of fried food, right? Plus, both, the fish and the chips are fried, which adds on to the excess calories you hate to add to your body. You must try baked fish and chips as they taste equally good and will leave you asking for more.
4. Jalapeno Poppers
You may not find much of a difference between baked and fried jalapeno poppers, except the fried ones will leave oil sticking on your palms, and you wouldn't want that. Try the crispy baked poppers without being guilty about oil and cheese.
5. Doughnuts
These sweet round delights can easily satiate your palate, but do you know the amount of calories they contain? Fried doughnuts with lots of sweet dressing can have a higher calorific value than anything else.
6. Chicken Cutlets
Chicken cutlets are tasty when eaten fried, but are tastier when they are baked. Without thinking a lot about the amount of calories, you can gobble up your favourite starters. Add some cheese, basil and pepper to the dish and you would never want to go back to the ol' fried chicken cutlets ever again.

7. Eggplant
Roasted or baked eggplants are any day better than fried ones. They are crispy and can go through various renditions with cheese, potatoes or any other food that you may want to team it up with.

8. Onion Rings
Fried onion rings make such a perfect option for snacking, however, you know you wouldn't be able to gorge on to many of them because they are super oily and may cause harm. So why not switch to baked onion rings? They are easy and handy to make too.
9. Potato Chips
Major F&B companies in an ode to do something different introduced baked chips, which were liked by many. They were obviously crispier, tastier and any day a healthier version of fried ones. Go ahead and try baked chips and have them without any guilt.
10. Ravioli
Baked raviolis make great appetisers. Egg coating, Italian-spiced breadcrumbs and carefully baked raviolis are a healthy and immensely satisfying option. We are sure you would want to try this more often.
Baking does not compromise on quality, just makes it better. Baking these foods may take a lot of time as compared to fried ones, but considering healthy options over unhealthy will definitely help you rethink your food intake. So, how about making some lifestyle changes and gorging on your favourite foods with a slight twist. Why eat fried foods when they can be baked and relished?