In Meghalaya, the Khasi's call it
kwai
. For the Garos who love it with equal passion, it is
gue
. In Assam and Nagaland, it is known as
tamul
, whereas in Manipur and Mizoram it is
kua
and
kuhva
respectively. There are many names but one word to describe each state's relationship with betel nut: passion.An outsider who is not aware will be simply stunned if offered betel nuts and leaves instead of water. It is strange how betel nut has come to occupy such an important place in the Northeast. So much so that visitors in Shillong may often wonder what's with the Khasis that they are always red-mouthed. What is that little pouch handing around their waist. Or, the little steel box they carry wherever they go? Of all the things, why do they offer betel nut when you go to their homes?
(Packed with Love: The Joy of Gifting Food)
Served on a Platter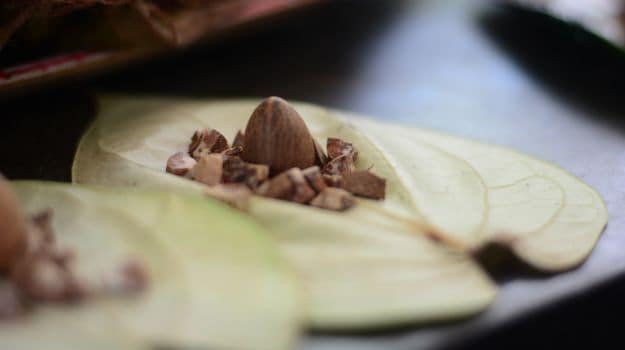 When you visit an Assamese home, the host will dole out a small platter of betel nut and offer you before water or tea is served. This is also a custom seem in many homes in Meghalaya. The other states in the region may not go to the extent of offering it to their guests, but they do not love it any lesser. Most of them begin their day with
kwai
and end with
kwai
. It would be hard to count the number of nuts an individual would consume in a day.In Meghalaya, locals have it in stock and do not run out of it ever. After all, it is not considered a good omen to run out of it. They love to start and end their meal with
kwai
. Even when a person dies, they resort to the humourous side of life by believing that the person has gone to heaven to have
kwai
with God. But then it isn't without a reason that they give such an importance to
kwai
. As per urban legend, wherein someone had to give up his life due to poverty as he had nothing to offer his friend who came to visit him, to that day, the Khasis are known to serve
kwai
as a mark of equality to every visitor. All are offered
kwai
by every home regardless of their economic status. The betel nut, thus, is a great social leveller.
(Rice that Binds)
The Festive Nut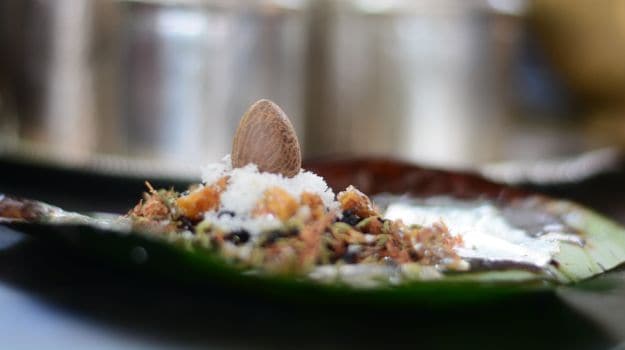 The sentiment resonates all over the region even though the reason may not be the same as that of the Khasis. In Assam, for instance, even a wedding is incomplete without betel nut. Right from the invitation till the celebration, betel nut is an important ingredient. If an invitation for wedding comes without the
tamul
it could convey that the host are not very keen on your presence. In important festivals like Bihu, betel nut has its defined place. During Bhogali Bihu which is a harvest festival, betel nuts along with other items like rice cake or
pithas
are burned as an offering to the God of Fire.The Assamese get their supply of
tamul
from their own state where it grows in abundance.
Tamul
is served to guests on a small platter along with fresh betel leaves, which is pleasing to the eye. It is used as a decoration and gifted to men and women who have achieved something remarkable as a mark of honour during felicitations. This age-old tradition is still followed by the Assamese even to this day.
(Hot News: One of The World's Spiciest Chilli Grows in India!)
Nuts About It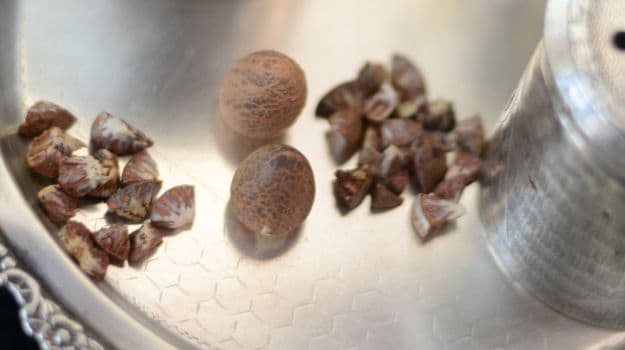 In Manipur, it is quite a sight to see women selling heaps of fresh betel nuts and leaves in their popular
ima kaithei
(market run solely by women). Locals get their share from this market. The supply though comes from Assam, Bangladesh and Myanmar as Manipur does not produce betel nut that's enough for consumption.The market has the complete fix of betel nuts. In another corner there will be a lady preparing lime called 'sunu'. The lime is to be smeared on the betel leaves before chewing. So it is a mandatory item on every religious occasion of the Meitei community: birth, marriage and death ceremonies. It is not offered to visitors like in Assam or Meghalaya but it is offered to guests by the Meitei community during birth ceremonies. During weddings, betel nuts are exchanged between the bride and grooms.Traditionally, a brass thali containing betel leaves and betel nuts on a bed of banana leave are used to welcome the groom. This symbolic gesture represents warmth and respect. During feasts, it is served after a meal as it is believed to aid in digestion. In Nagaland, the Nagas love their
tamul
and often it is an after-meal indulgence more for digestion than anything to do with tradition. In Mizoram, every local
paan
shop will have what the Mizos called
kuhva hring
(green betel nut), and it is commonly offered to visitors and guests. The betel nut is, however, not so popular in Arunachal Pradesh and Tripura.
(The Humble Indian Spice We All Take for Granted)
Disclaimer:
The opinions expressed within this article are the personal opinions of the author. NDTV is not responsible for the accuracy, completeness, suitability, or validity of any information on this article. All information is provided on an as-is basis. The information, facts or opinions appearing in the article do not reflect the views of NDTV and NDTV does not assume any responsibility or liability for the same.