A symbol of prosperity, a magical
ingredient of Ayurveda
and an important part of religious customs and traditions, the refreshing and evergreen creeper, commonly known as
Paan Patta,
holds a special place in Hindu tradition. Native to South-East Asia, betel leaves are as important as the sacred
Tulsi
plant which is worshiped in many households. But we never think of the reasons behind the connection of betel leaf with many traditions despite the fact that it is used in almost every religious custom.
Rituals performed with betel leaves
In South India in a region known as 'old Mysore', it is a tradition to offer two betel leaves to the guests on every auspicious occasion. Also, a betel nut and a coin are placed on a betel leaf to be offered as
dakshina
for priests and elders in South India. Likewise, Assamese offer a betel leaf to guests after having a meal. It is a custom to chew
paan ke patte
especially after meals as it acts as a digestive. Betel leaves are also used to embellish the
Kalash
(pot) used for performing various
religious rituals
as it purifies the water.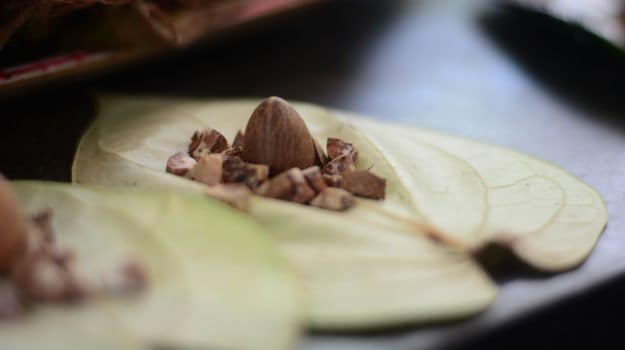 Betel leaf is used to worship gods. Photo Credit: iStock
Mythological Bond
According to Ramayana, the time when
Shri Hanuman
reached Lanka to convey the message of
Lord Ram
to
Sita Devi
, she gave him a garland made with betel leaves when she couldn't find anything else to offer him as a token of delight and appreciation. This is why people offer betel leaves while worshiping
Shri Hanuman.
In Mahabharata also, the betel leaf played a significant role. It is believed that Arjun was asked to acquire a betel leaf after his victory the over evil powers in
Rajaugya Yagnya
by the priests that was needed to start the
Yagnya
. Since there were none available in that area, Arjun had to go to the Kingdom of Snakes –
Nag Lok
and ask the queen to give him a betel leaf. This is why the betel leaf is also known as
Nag-Velli
or
Nagarbel
.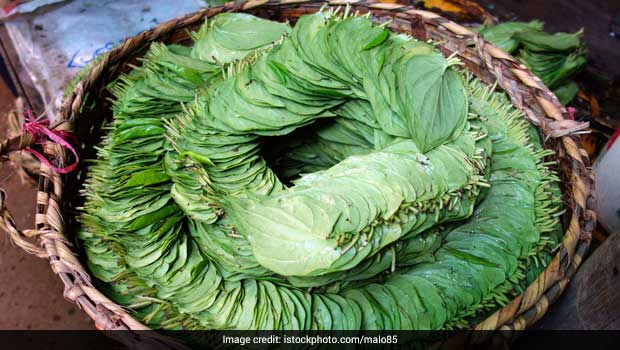 Betel leaf and Areca nuts symbolize loyalty and strong bond.
Symbol of marriage and love
According to the traditions in many South-East Asian countries, a combination of Betel leaf and Areca nuts is inseparable as they symbolize loyalty in love and a strong bond. Thus, it became a tradition to chew a betel leaf and Areca nut when the bride and groom's parents talk about their
wedding plans
for the first time to impart good luck.There is also a very famous saying in Malayan, "
bagaikan pinang dibelah dua
" which means that the newly wedded couple is now compatible to each other just like the betel leaf when divided in half. It is also considered to be a symbol of fertility and is used in many traditions of Indian weddings.(Also Read:
Paan (Betel Leaf): The After-Dinner Sweetener Goes Fashionable
)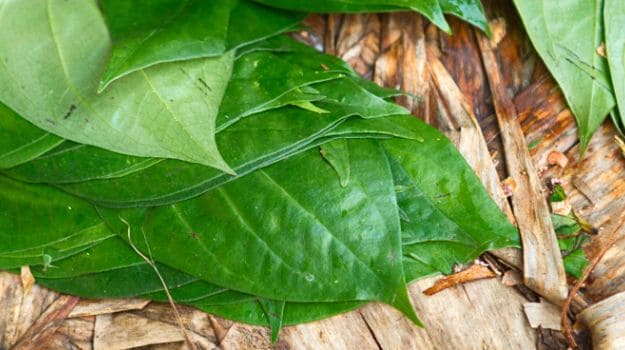 They are a part of many Indian wedding rituals. Photo Credit: Istock
Ayurveda and science
According to Ayurveda, betel leaves contain certain elements which can help to cure diseases caused by air and bile. According to the Vaidyas in Sanskrit, betel leaf juice was often prescribed as a remedy for
infected ears
and pus formation and can cure a headache by applying it on the forehead.A betel leaf contains vitamin C, iron, carotene, fibre, potassium, iodine and thiamine and hence is used widely in Aryuvedic medicines to prevent bad teeth, treat
ulcers
and acne, help in relieving coughing and even to cure respiratory disorders like bronchitis.
Disclaimer:The opinions expressed within this article are the personal opinions of the author. NDTV is not responsible for the accuracy, completeness, suitability, or validity of any information on this article. All information is provided on an as-is basis. The information, facts or opinions appearing in the article do not reflect the views of NDTV and NDTV does not assume any responsibility or liability for the same