Bizarre bacon: This festival lets you eat, drink, floss with bacon
Associated Press | Updated: May 23, 2014 10:47 IST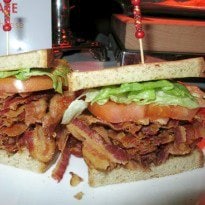 They're making bacon in so many different ways at one Atlantic City casino that you can drink and even wear it.

The Tropicana Casino and Resort's Bacon Week includes off-beat recipes like bacon milkshakes, and chocolate-covered bacon shaped like roses.

There's bacon bourbon, margaritas, beer and vodka; bacon ice cream sundaes, and a BLT sandwich with a full pound of bacon.

There's even bacon-flavored toothpaste, dental floss and lip balm.

Bacon festivals are becoming more common around the country. A bacon-lovers website counted nearly 30 around the country from last April through December.