Sarika Rana | Updated: June 14, 2017 11:02 IST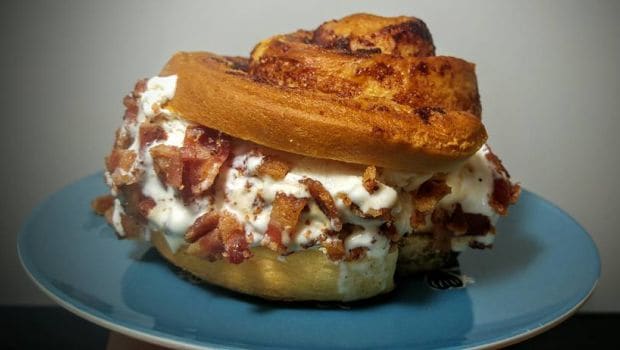 Cinnamon Roll Ice Cream Sandwich topped with Bacon. Yes, you heard it right! And that's not all, it racks up a whopping 1,770 calories, which makes it an once-in-a-lifetime snack. Kauffman Stadium, a baseball stadium and in Kansas City, Missouri, has recently unleashed its deadliest sandwich. While every year people indulged in hot dogs, beer, and peanuts as they watched the matches, this time the stadium brought in a surprise for its visitors, which soon became an internet sensation. Here's everything you need to know about this extremely high calorie sandwich.

What's the Hype About?





Kauffman Stadium has fans visiting for baseball games and during the matches, one can buy finger foods to gorge on. The hottest selling item on their menu right now is the Bacon Covered Cinnamon Roll Ice Cream Sandwich. The dessert is actually a giant-sized, glazed cinnamon bun that is sliced in half. At the centre of the bun lies a huge blob of ice cream, which is then topped with lots of candied bacon bites. To finish the dessert preparation, some more syrup is poured on the dish, along with sliced strawberries and a dash of powdered sugar. Mouthwatering much? The entire dessert adds up to a whopping 1,770 calories!
(Also read: Heart Attack Grill Restaurant: Serving 10,000 Calories on Your Platter)



Social media had its own share of laughs about this treat; while some expressed a desire to binge eat, others made jokes about its calorific value. Here are some interesting and hilarious reactions to this huge ice cream sandwich on Twitter that you will love to read:









Which is the wackiest food combination that you have ever tried? Well, we are sure it is nothing as crazy as a