There are very few breakfast foods that get both adults and children equally excited, need very little prep time and an even shorter cook time. And above all, can be sweet, savoury or both! Rich with
butter
and
eggs
, waffles have sharp and crispy edges, a golden-brown top with perfect pockets that were created to the hold a thick and sun-kissed combination of syrup and butter.A few months ago, I knew everything about eating waffles and nothing about making them. That was till my mom gifted me a
sturdy, almost manly
VonShef iron - my turning point. A bowl of freshly-made waffle batter and 6 minutes later I was in heaven. I woke up in the wee hours of the morning and toyed with raspberry jam, gooey Nutella, powdered sugar, dark chocolate and almost everything sweet I could find in the kitchen.Eventually, my quest for delicious waffles took me to the savoury side, where it was all cheddar, ham, eggs,
spinach
,
potatoes
, chilli, hot sauce and the works. If you thought sweet waffles were the boss, then the
savoury ones
are going to knock your socks off. They don't just make for a delightful breakfast but also an interesting evening snack and maybe even a meaty lunch. All you need is a reliable iron and my favourite recipes.
Please note: You'll need a waffle iron for all of these recipes. And just before you pop in your batter, make sure the iron's running hot or you'll have waffles with raw centres.
1. Mashed Potato Waffles
I'm a fan of buttery mashed potatoes. So, when I say potatoes and waffle in the same sentence, I knew I had found myself a winner. These waffles are ridiculously simple, even more than the regular sweet kind.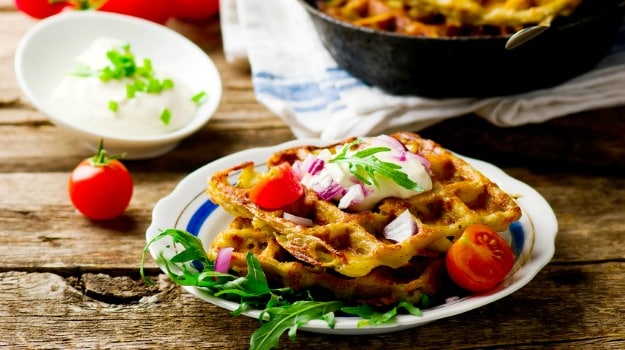 Mashed potato waffles are pretty straightforward, but there are a few twists you could bring to the recipe: Moira Hodgon's (from the NYTimes) uses extra virgin olive oil instead of unsalted butter, smart advice in case you're keeping your calorie count in check. The waffle also turns out to be a bit lighter, in texture. Kelly Senyei's recipe on her blog just taste.com recommends the use of cheddar cheese while mixing in the dry ingredients. So the cheese sort of just melts through on cooking, giving it a really nice and chewy texture. Martha Stewart on the other hand, adds a teaspoon of sugar to the mix and her quantities of baking powder and baking soda also seem to be on the higher side. I'm not sure if that changes the waffle in any way, but it's a recipe you could try.Now, let's make some waffles! And serve them with some scrambled or soft-boiled eggs, fine cheese, sour cream and shredded bits of crispy bacon.
Prep Time
: 10 minutes
Cook Time
: 5 -6 minutes
Ingredients
2 large potatoes
1 cup all purpose flour
2 large eggs, separated
1/2 teaspoon baking powder
1 onion
Chives
1/4 teaspoon baking soda
6-8 tablespoons of unsalted butter or vegetable oil
1 cup milk
Salt, to taste
Freshly ground pepper
Method
1. Add some salt in cold water and dunk the potatoes. Bring to boil for about 8-9 minutes, till the potatoes' skin cracks and they look soft. Drain the water and let them cool. After a few minutes, peel away the skin and using a serving spoon, a fork or your hands, mash well till all the lumps are out.2. In a bowl, whisk egg yolks, butter and milk.3. In a different bowl, sift the all purpose flour, baking powder, baking soda, salt and sugar.4. Mix the wet and dry ingredients (from step 2 and 3). Now, add the potatoes to this.5. In a different bowl, whisk the egg whites till they're nice and cloudy and then fold that into the batter from step 4.6. In the hot waffle iron, cook this mix like how you would cook your usual belgian waffles.
2. Egg Waffles
The honey-comb looking egg waffles are a common sight on the streets of Hong Kong and are popularly known as Gai Daan Jai or Puffe and Bubble Waffles. But that's not the kind we're cooking today. They're eggy but not exactly savoury: nutmeg, cake flour and vanilla extract are some of the ingredients used in them. They're also served with coconut, fresh fruit, syrup and powdered sugar. Instead, we're going to cook a waffled-omelette. This recipe takes its inspiration from Lindsay's recipe, the author of the blog 'The Lean Green Bean'.
Image credits: LeanGreenBean.comPrep Time: 5 minutesCook Time: 1 minuteIngredients
2 large eggs
Crisp bacon bits
Salt, pepper and some cajun seasoning
Mature Cheddar cheeseMethod1. Break eggs in a bowl, add the salt pepper and seasoning. Whisk.2. Pour the mix on a hot waffle iron and add the rest of the ingredients on top.3. Shut waffle iron and let it cook for about a minute or a minute and a half, tops.3. Ham & Cheese WafflesThere are two ways to make this waffle: one, you make the entire mix from scratch or second, you waffle a ham and cheese sandwich. I'm going to tell you how to do both, although the second one is pretty obvious.
Image Credits: DamnDelicious.net
Prep Time
: 10 minutes
Cook Time
: 6-7 minutes
Ingredients
2 cups all purpose flour
3 teaspoon baking powder
Salt to taste
2 large eggs
1.5 cups milk
1.5 cup melted butter
200 grams ham, chopped thin
Mature Cheddar cheese
Method
1. Sift the flour, salt and baking powder. Add the pepper.2. Slightly whisk the eggs in a bowl and add milk and melter butter to it.3. Mix the wet and dry ingredients and pour it on a hot waffle iron. Put the ham and cheese on top and close the waffle iron.4. Let it cook for 4-5 minutes and check. If you want to brown it further, let it sit for 1 minute or two more.The recipe on damndelicious.net calls for an ounce of hash browns which is also something you could try if you want that ham and cheese baked potato kind of flavour.
4. Cornmeal Waffles Served with Sriracha and Maple Syrup
I found this recipe on the blog nutmegnanny and can I say, it's just absolutely spectacular. You've got maple syrup, hot sauce, a gooey egg on top and crisp waffles on the bottom. It's really a party of flavours.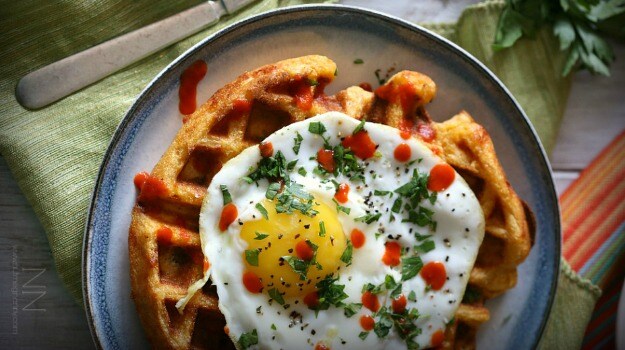 Image Credits: nutmegnanny.com

Prep Time: 10 minutesCook Time: 6-7 minutesIngredients
1 cup all purpose flour
1 cup cornmeal
2 teaspoons baking soda
1 teaspoon paprika, chilli flakes or cajun seasoning will work too
1/2 teaspoon baking powder
2 cups milk
4 tablespoons Maple Syrup
2 tablespoon olive oil
2 teaspoon Sriracha
2 sausages or 100 grams of ham
Mature cheddar cheese
Fried egg, to dress the waffleMethod1. In a bowl, whisk the cornmeal, flour, baking soda, baking powder and the rest of the seasonings.2. In another bowl, whisk the milk, maple syrup, sriracha and olive oil together.3. Mix the wet and dry ingredients and add the sausages and cheese.4. Cook the mix in a hot waffle iron and dress it with the fried egg and very little maple or sririacha, if desired.5. Waffle with Feta and ChorizzoIt's a perfect recipe for weeknight dinners, when you're craving something slightly sweet but mostly something meaty and wholesome. Eggs, chorizo, cheese, greens - it's all there!Prep Time: 10 minutesCook Time: 7-8 minutesIngredients
2 cups Waffle mix
250 grams chorizo, sliced thin
2 cups spinach leaves
3 tablespoon vegetable oil, or unsalted butter
2 eggs
Salt and pepper
1.5 cup feta cheeseMethod1. Prepare your regular waffle batter like you would.2. Add the cheese, chorrizo and spinach leaves to it.3. In a hot pan, scramble the eggs with some salt and pepper.4. Pour the waffle mix in a hot iron and once ready, dress it with the scrambled eggs.