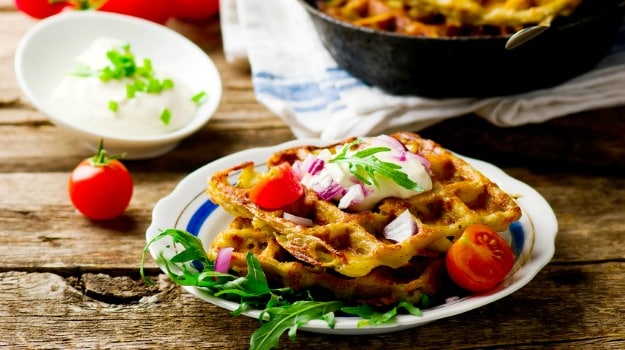 Mashed potato waffles are pretty straightforward, but there are a few twists you could bring to the recipe: Moira Hodgon's (from the NYTimes) uses extra virgin olive oil instead of unsalted butter, smart advice in case you're keeping your calorie count in check. The waffle also turns out to be a bit lighter, in texture. Kelly Senyei's recipe on her blog just taste.com recommends the use of cheddar cheese while mixing in the dry ingredients. So the cheese sort of just melts through on cooking, giving it a really nice and chewy texture. Martha Stewart on the other hand, adds a teaspoon of sugar to the mix and her quantities of baking powder and baking soda also seem to be on the higher side. I'm not sure if that changes the waffle in any way, but it's a recipe you could try.
Now, let's make some waffles! And serve them with some scrambled or soft-boiled eggs, fine cheese, sour cream and shredded bits of crispy bacon.
Prep Time
: 10 minutes
Cook Time
: 5 -6 minutes
Ingredients
2 large potatoes
1 cup all purpose flour
2 large eggs, separated
1/2 teaspoon baking powder
1 onion
Chives
1/4 teaspoon baking soda
6-8 tablespoons of unsalted butter or vegetable oil
1 cup milk
Salt, to taste
Freshly ground pepper
Method
1. Add some salt in cold water and dunk the potatoes. Bring to boil for about 8-9 minutes, till the potatoes' skin cracks and they look soft. Drain the water and let them cool. After a few minutes, peel away the skin and using a serving spoon, a fork or your hands, mash well till all the lumps are out.
2. In a bowl, whisk egg yolks, butter and milk.
3. In a different bowl, sift the all purpose flour, baking powder, baking soda, salt and sugar.
4. Mix the wet and dry ingredients (from step 2 and 3). Now, add the potatoes to this.
5. In a different bowl, whisk the egg whites till they're nice and cloudy and then fold that into the batter from step 4.
6. In the hot waffle iron, cook this mix like how you would cook your usual belgian waffles.
2. Egg Waffles
The honey-comb looking egg waffles are a common sight on the streets of Hong Kong and are popularly known as Gai Daan Jai or Puffe and Bubble Waffles. But that's not the kind we're cooking today. They're eggy but not exactly savoury: nutmeg, cake flour and vanilla extract are some of the ingredients used in them. They're also served with coconut, fresh fruit, syrup and powdered sugar. Instead, we're going to cook a waffled-omelette. This recipe takes its inspiration from Lindsay's recipe, the author of the blog 'The Lean Green Bean'.