Best Bacon Recipes- For meat lovers, breakfast is usually incomplete without biting into crisp bacon along with their morning eggs. The smoky flavour of the sliced meat along with the melting layer of fat is a treat to dig into. Besides enjoying it as a side, it can also be used as an ingredient to create some stellar dishes. Just try it. Chop some bacon and add it to your pot of soup or stir-fries, or sprinkle it in pizzas and pastas, and you will find yourself relishing those dishes till the last bite. It's amazing how effortlessly it can elevate the overall flavour!
Bacon is cured pork meat which is made either in brine or plain salt, and then dried, smoked or boiled. Different cuts of meat are used in preparing bacon, but most commonly used cuts are the sides and the back of pork, which are comparatively leaner than those prepared from pork belly (commonly known as streaky or fatty American bacon). As such there are different kinds of bacon, the most popular being rashers which are lean and meaty.
The most preferred way of cooking bacon is to pan fry it till crisp (if having as a side) or brown it a little before adding it to spruce up sauces, soups and stir-fries. Some types of bacon can also be enjoyed without needing to pan-fry them. You can just top them up on a toast along with crisp salad leaves and eggs and indulge.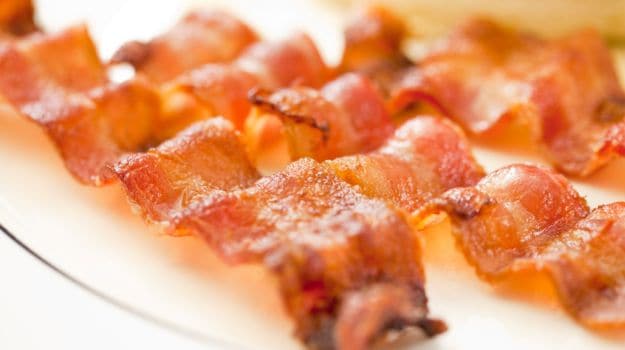 If you have a huge pack of bacon stacked in your refrigerator and are looking for interesting ways to use it to create some lip-smacking dishes, then you will love our 10 best bacon recipes. From savoury scones and cheese toasts to chili dogs and spaghetti carbonara, we present 10 delicious ways to cook with bacon and wow your guests. Bacon maybe the most popular breakfast side, but you will be amazed to discover the numerous ways you can use it to create a whole range of delicious dishes.
Here are our 11 best bacon recipes -
There is nothing more delicious that bacon crisped in butter. This recipe with bacon and mushrooms dipped in yogurt on buttered toast is hard to resist. Make this special recipe for your breakfast and you'll never go back to anything usual.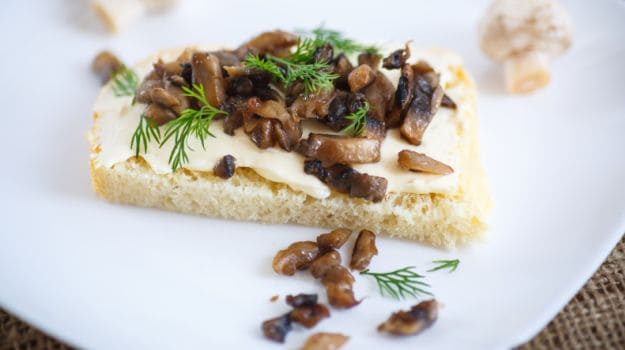 There is nothing more delicious than a fried bacon dipped in yogurt on a buttered toast.
Look for a delicious snacking option? These bacon loaded, baked treats will win you over. Bite into cheese, bacon, herbs, curd and condiments - all baked to perfection. You can prepare these for guests as a tea time treat.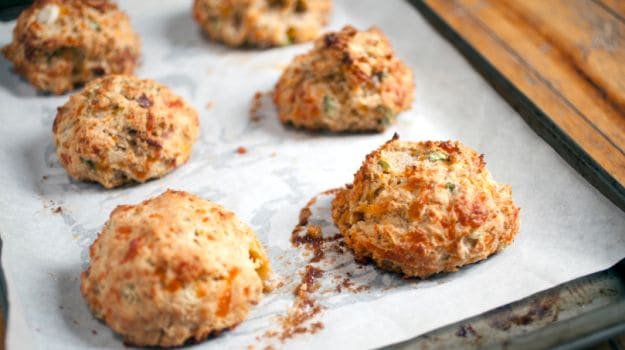 Bites of cheese, bacon, herbs, curd and condiments, baked just right. A great tea time option.
The only thing that could make a grilled cheese is to add a little bacon, and that's exactly what has been done in this delicious cheese toast recipe.Take the sinful cheese toast a notch higher by loading it up with bacon, avocado and tomatoes. Too good to resist!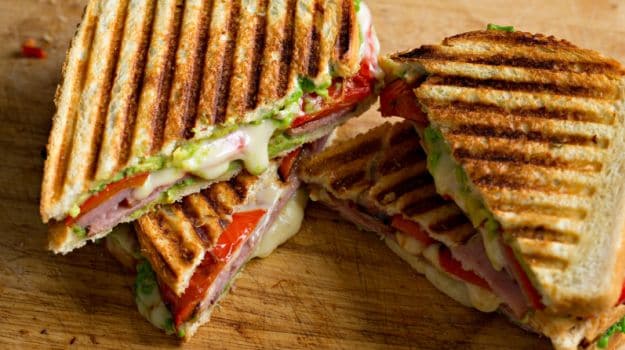 Treat yourself to this classic grilled sandwich along with a bowl soup or your favorite slaw, and you can't go wrong.
An easy casserole dish that is easy and quick to be your weeknight dinner! A delicately baked dish of bacon and macaroni topped with tangy tomato puree and oodles of cheese. Casserole is a French dish which in British English is frequently called a bake.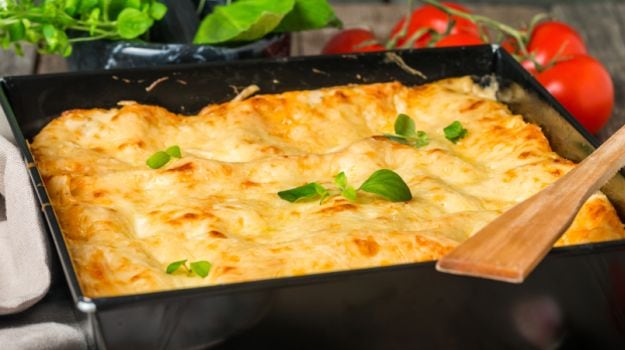 Savour this delightful casserole dish with friends and family.
Dates stuffed with cream cheese wrapped in strips of bacon and leek. This is traditionally made with prunes, prepared during the Christmas feast.and popularly known as 'Devils on Horseback'. An amazing appetizer option for a dinner party or a potluck with friends and family.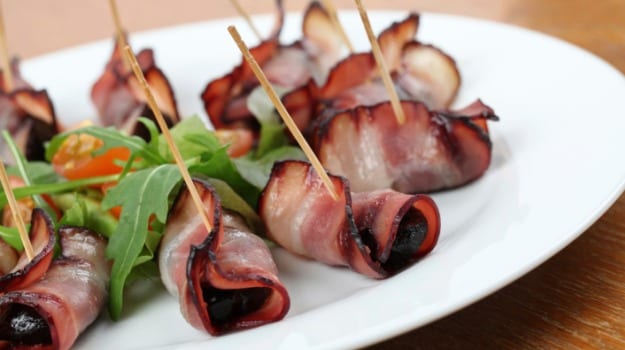 Bite-sized dates wrapped in bacon with soft and melting cream cheese, is the best way to indulge in the goodness of dates.
Potato cubes fried with bacon pieces, onions and gherkins, and served inside boiled and hollowed beetroot cases. This is just perfect for picnics, days at the beach, and camping.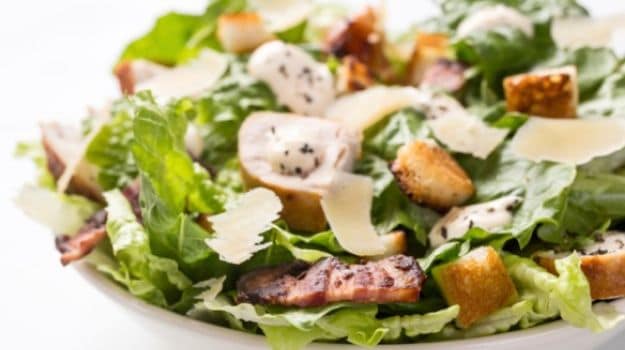 Goodness of veggies and bacons, fried together along with potatoes is a light and healthy meal option.
A classic Italian pasta dish with the key ingredients of egg, bacon and parmesan cheese. It's rich, tasty and a great option for brunch. You can cook spaghetti carbonara for a lazy, week night dinner and pair with wine.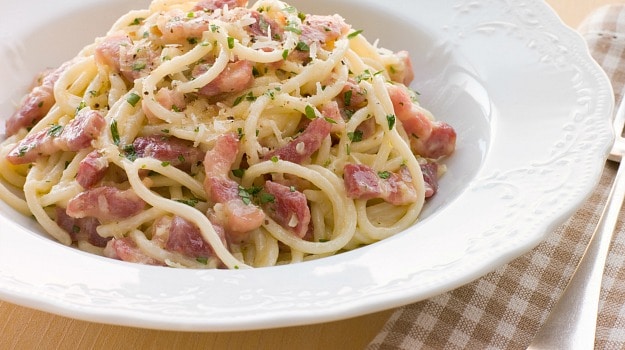 Spaghetti Carbonara is one of the most popular Italian pasta dish.
Chili dog is an American classic hot dog, with decadent bacon and beef. It's an absolute treat for meat lovers, and makes for a great picnic treat. Chilli dogs has multiple variations with respect to type of sauce, ingredients, cheese and buns and has different regional names in the United States.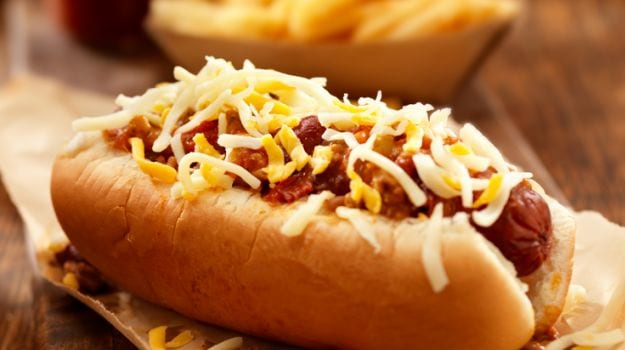 One of the most loved snack option in the United States, chilli dogs or hot dogs are filling and an absolute delight to eat.
This is a lip-smacking treat where bacon is wrapped around cooked chicken and mushrooms, coated in batter and deep fried. For the recipe, click here.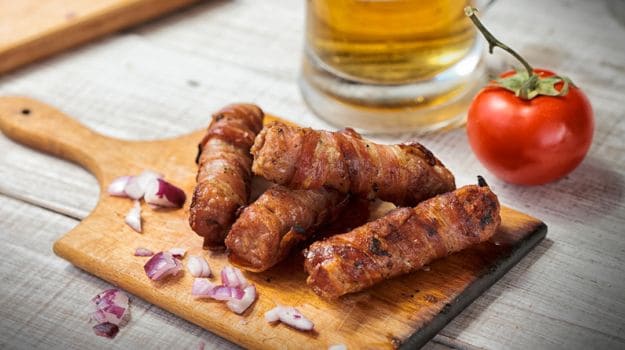 Easy, quick and delicious, this recipe calls for crisp diced bacon with a hint of garlic and seared scallops. For the recipe, click here.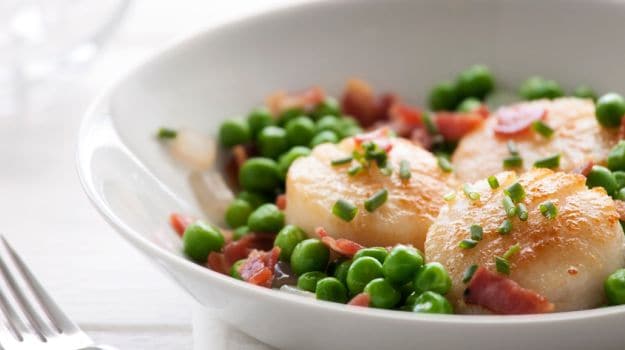 A perfect breakfast option, this recipe has both egg and bacon poached perfectly to your desire and creamy Parmesan foam. This is a simple and easy recipe with the light cheese foam and goodness of bacon.