Now that
party
season has crept up on us again, many of us resort to the same old gift ideas that have made the rounds every year. If only I had ten rupees for every scented candle ever given to me, I'd be a wealthy woman. This year, I intend to be different. I have a cool new gifting suggestion – flavoured oils. They're delicious, universally endearing, easy on the wallet and super easy to prepare – what's not to like? All you need is a fancy, empty, airtight bottle, a tasting oil (no
coconut
, please) and whatever you want to infuse the oil with.
Choosing the Ingredients
The first thing to do is to choose the oil that you wish to use. As I mentioned above, any neutral-tasting oil should do; choose
grape-seed
,
peanut
or olive (but make sure the olive oil is not very strongly-flavoured. I've read that blended
olive oil
have a rather weak taste of their own and therefore make perfect companions for your flavouring. Remember not to use these oils for deep-frying. They are perfect for a quick stir fry, as marinades, in salad dressings and even as dips for bread.Now for the flavouring – not to put too fine a point on it, but the sky's your limit. You can infuse oils with herbs, fruit, nuts, meat and anything really. Besides, you can mix and match as per your taste, it doesn't have to be one ingredient per oil. If you do make fresh-herb infused oils, they must be refrigerated and finished in no more than 10 days. And whatever you do, don't forget the taste test! If you think the flavours are too subtle for your liking, let them steep longer or add more.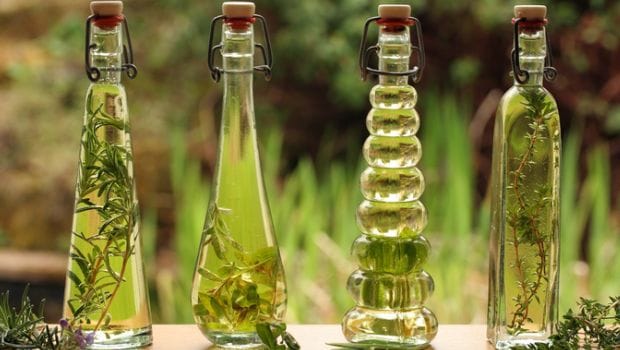 How to Make Infused Oil
There are two ways in which you can infuse oils. One way is by cold infusion and the other (you guessed it) is by warm infusion.Cold infusion works best for milder ingredients, like the gentle-tasting coriander. Use a
mixer / grinder to pulverise the herbs, or bruise them and then let them steep in the oil of your choice until the flavours have blended. Then strain the oil properly, and toss it into your fridge. Done!Next is the warm infusion, which you will use for everything else. This involves heating up the oil and then adding in the flavouring agent, either on the stove or in the oven. This is only slightly more complicated, but it is the best and safest method to use and one that I have played around with the most.
Flavoured Oil Recipes
Here are some of my successes:
1. Chilli Oil
I used leftover chilli flakes that we get from home-delivered pizzas for this. Peanut oil lends itself to Chinese cooking and sits very companionably with the chilli flakes.150ml peanut oil
5 tsp chilli flakes
Method:
Heat the oil together with the chilli flakes, on a saucepan for about 5 minutes. At this time, it should have started bubbling lightly and / or heated to about 150 degrees. Do not heat it for longer, or the oil may become rancid.
Take the oil and chilli off the heat, and allow it to cool to room temperature.
Note: You can choose to strain the flakes out of the oil since there will be residual chilli bits in the oil, but I prefer to keep them in and use them for stir frying Chinese dishes. Also, it looks so pretty!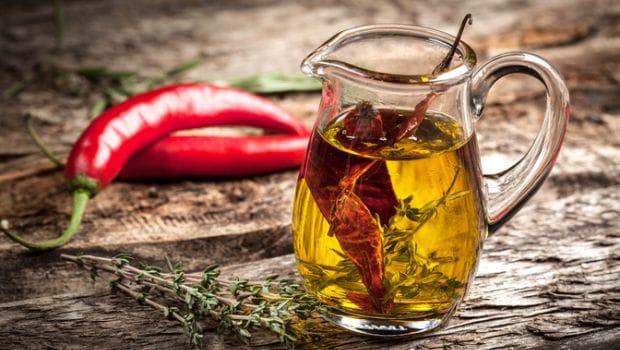 2. Basil Oil
150ml olive or grapeseed oil
1 packed cup basil leaves (You can use dried basil for this also; just make sure to use less
because it packs a far more concentrated flavour than the fresh herb)
Method:
Wash and dry the basil leaves thoroughly. Then chop them up or grind them in your mixer. In a pan, heat the leaves and oil together, mixing them thoroughly for about three minutes on medium heat. Strain the oil to remove visible traces of basil. Then let it cool down to room temperature.
If you want an electric green-coloured oil, then you have an extra step to incorporate – quickly blanch the basil leaves in hot water, and then blend them together with the oil before heating. Do keep in mind that if you do blanch them, you will need to squeeze out the extra water before blending with the oil.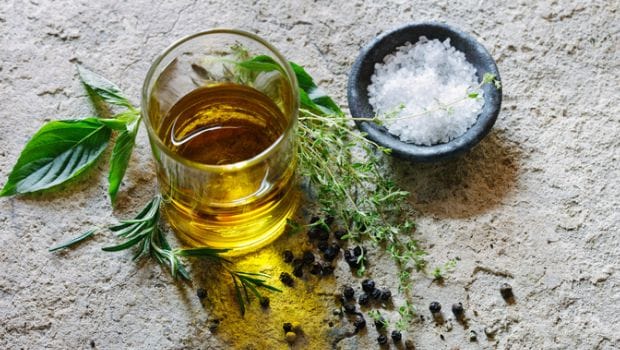 3. Orange Oil
Orange oil tastes fantastic when drizzled over roast vegetables, as a salad dressing and even to flavour cakes. Do not use the white pith-y part because it will impart a bitter flavour to your oil. Use only the zest.1 Tbsp orange zest
150ml olive oil
Method:
Place the zest with the oil in a mixer and pulse until thoroughly mixed.
Let it sit for about an hour, then strain out the zest. If you like, add a sprig of rosemary to prettify the oil (plus, the two make a great flavour combination).
4. Bacon Oil
This is absolutely heavenly when used to cook eggs, toast sandwiches, as salad dressings and really anywhere.150ml olive oil
2 bacon strips
Method:
Fry the bacon strips without oil, in a pan until cooked. Then chop up the bacon into little bits and douse them in the oil. Allow the bacon to steep in the oil for about two hours and then filter it out. Your bacon oil is now ready.
5. Garlic Oil
150ml olive oil
1 garlic head, peeled and sliced or smashed
Method:
In a pan, heat olive oil and garlic till it sizzles slightly. Turn down the flame to low, and let it cook for 10 minutes. Switch off the flame, cool, and let the flavours infuse for 45 minutes.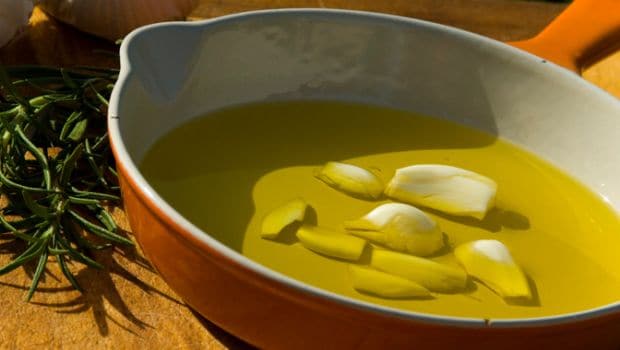 PS. I have read lots of advisories that recommend you to stay away from fresh herbs since there is the rare chance of a bacterial infection. One of the ways to combat this is to use the warm infusion method, keep the oil refrigerated and use within a week or ten days. Wash and dry the herbs thoroughly, preferably in the hot sun for several hours or by roasting them in the oven for some time.
About the Author:
Meher Mirza is an independent writer and editor, with a focus on food and travel. Formerly with BBC Good Food India, she loves anime, animals and artsy things but also comics, technology and death metal.
Disclaimer:
The opinions expressed within this article are the personal opinions of the author. NDTV is not responsible for the accuracy, completeness, suitability, or validity of any information on this article. All information is provided on an as-is basis. The information, facts or opinions appearing in the article do not reflect the views of NDTV and NDTV does not assume any responsibility or liability for the same.