Raw field peas used for a dish involving mustard greens in smoky potlicker with thin and crispy cornbread, in Tuskegee. Black-eyed peas may be customary for New Year's Day, but field peas help sustain the rural Alabama economy.
Eating a bowl of black-eyed peas on New Year's Day is not the nation's sexiest food ritual.
Peas are not as beloved as Thanksgiving turkey. Peas lack the easy appeal of Super Bowl guacamole or the religious significance of a Hannukah latke. But for a day, a broad swath of the nation stands united in its belief that black-eyed peas - simmered with cured pork and served with soupy greens like collard or folded into rice for some hoppin' John - promise a year of luck and money.
Farmers here in Alabama's fertile Black Belt know there is much more to field peas than luck - or the plebeian variety swimming in your New Year's bowl. In the fields where George Washington Carver devoted his life to the agricultural education of children whose parents had been born slaves, the legume has been a linchpin of the South's culinary history and could hold a key to its economic future.
"The Southern field pea is a symbol of all we do," said Dr. Walter Hill, dean of the agricultural school at Tuskegee University and a man often called the modern-day Carver.
Carver, a botanist and inventor who was born into slavery in the 1860s, is perhaps best known for helping rural farmers see the potential in peanuts and sweet potatoes. But he was equally devoted to the power that the field pea, which is also known as a cowpea, held for rural Southerners.
"The cowpea, rightly handled, is both a bank and mortgage-lifter to the poor man," he wrote in one of the many pamphlets on cooking and agriculture he produced and handed out free.
Hill came to Tuskegee 38 years ago, after earning his doctorate at the University of Illinois. "My main purpose for coming here was the same as Carver's main purpose," he said. "I fell in love with my own people and the struggles we have. Farmers here are still struggling."
A walk with him through the winter fields that surround the university offers many lessons. For one thing, the bag of dried peas you picked up at the grocery store for New Year's Day was most likely grown in California. Chalky and bland, the buff pea with a black dot in its belly is to the true Southern field pea what iceberg is to lettuce.
Field peas are technically beans, and not at all like the green garden pea most of us know. Early in the season, whole young pods can be treated like green beans in the kitchen. Pulled from the pod and cooked, the peas have a flavor that can vary from meaty or spicy to delicately vegetal. Here, the field pea is viewed more as a seasonal delicacy essential to a summer vegetable plate or as a companion to slowly smoked pig. It is food with a deep history. The field pea first traveled to the southeastern United States from West Africa, brought by enslaved Africans.
Field peas don't need a lot of water and can take a lot of sun. They adapt easily to wherever they are planted. As an alternative to cotton, they sustained both livestock and people who were too poor to afford other food. As a bonus, they act like a kind of green manure, putting nitrogen into a farmer's field so other, more profitable crops can grow.
Because the seeds were usually passed down through families, they come in so many varieties that no one has an exact count. The have the best names - turkey craw, washday, red ripper, old timer, whippoorwill. Different kinds have different applications in the kitchen. Crowder peas, named for the way they crowd into the pod, are big and meaty and mix well with rice. Cream peas are bright and delicate and mash well.
The tiny Sea Island red pea, a rare variety that since the 17th century was cooked into a ruddy gravy in the rice fields of the Carolinas, is being revived by dedicated students of Southern culinary history, some of whom gathered on a Sunday afternoon last month at a historic antebellum house in Charleston, South Carolina, for what organizers said was the most elaborate Southern field-pea tasting ever assembled.
Chefs simmered 22 varieties for the event, which was filmed for a documentary on Southern food being prepared by Jamie Simpson Ross. Many were selected by David S. Shields, a University of South Carolina professor and the author of "Southern Provisions: The Creation and Revival of a Cuisine."
Like others invested in raising the profile of the field pea, Shields said the type of black-eyed peas sold in grocery stores have given the field pea a bad reputation. They were mostly used for cattle fodder in the 19th-century and "have a quite a dull flavor."
Better, at least to his palate, is the ladyfinger or the petite rouge, which was also a favorite of Jessica Harris, the scholar of foods cooked by the African diaspora. She sat in on the tasting.
"It is a food of memory, and these are what I remember," she said afterward.
Hill, the Tuskegee professor, eats peas or beans every day, usually cooked simply with onion and dressed with olive oil and hot sauce. At the tasting table, he was partial to the bright-eye rice pea, which reminded him of artichokes. But any field pea will do.
"They are so natural to me," he said. "My daddy was from Arkansas and he cooked black-eyed peas with pig snouts and pig ears, so I think any cowpea is a good one."
The popular winner was the pinkeye purple hull pea. It's technically a black-eyed pea, but has a nicely vegetal taste and firm, smooth texture.
It grows well here and holds up well in the stainless-steel shucking machines tucked into small packinghouses on the farms here. The pink eye is the pea that farmers hope will help fresh Southern field peas build a bigger fan base in Northern markets. To do that, farmers are working with Hill and others at Tuskeegee to create better methods of growing, packaging and distribution.
The pinkeye purple hull peas have a lot of fans in the South already. They are also the peas that April McGreger grew up eating in Mississippi. She lives in North Carolina now, where she sells pickles and preserves under the Farmer's Daughter label. At the Charleston tasting, McGreger helped the Charleston chefs Kevin Mitchell and Benjamin Dennis cook all those field peas.
In Mississippi, where one of the worst things you can say about someone is that their peas taste like dishwater, no one eats rice with peas. "We're not rice people," McGreger said. "On New Year's Day, people will ask if you've had your peas and cabbage."
For the holiday, Southerners who planned ahead will pull precious supplies of last season's pink-eyes or other field peas from the freezer for family or close friends. But like many Americans, McGreger has often succumbed to the California interlopers out of necessity.
"You would definitely not cook lady peas for the 50 people at my grandmother's on New Year's Day," she said.
The purple hull pea is also what farmers like Alphonso Hooks, 67, prefers. He grows them on his 40 acres not far from Tuskegee University. Hooks and a handful of other farmers here see the Southern field pea as an economic hope. Already, they are selling them fresh to restaurants in Birmingham and at Alabama's only Whole Foods.
In 2013, in a great stroke of cooperation among a burgeoning coalition of farmers organized by Hill and his team, they began shipping them to Wal-Mart, where they are sold fresh from late spring to early fall in specially designed, one-pound bags that say "buy fresh, buy local, buy Alabama."
Hooks, who farms with his son, Demetrius, has been married for 45 years. Although he and his wife don't always understand each other (she's from Louisiana), "we have a whole lot of love," he said.
That explains what will be in his bowl on New Year's Day. He and his son prefer Southern field peas simmered with some cured pork and onions and served with cornbread. But on New Year's Day, he falls back on the dried black-eyed peas mixed with rice that his wife was raised on.
"Like I said," he explained, "I've been married 45 years."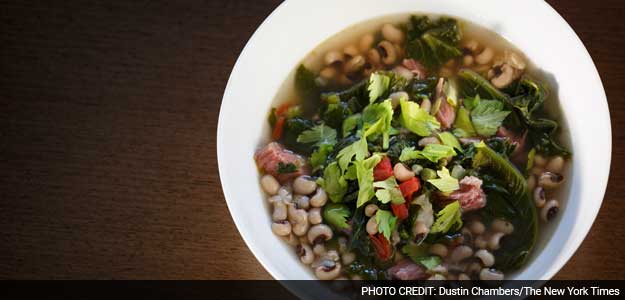 A dish involving field peas and mustard greens in smoky potlicker, in Tuskegee. Black-eyed peas may be customary for New Year's Day, but field peas help sustain the rural Alabama economy. (Dustin Chambers/The New York Times)
Recipe: Purple Hull Peas and Mustard Greens in Smoky Potlikker
Yield: 6 to 8 servings, about 12 cups
Ingredients:
2 tablespoons oil
1 1/2 cups finely diced yellow onion
1 cup finely diced celery (leaves reserved)
1 tablespoon finely chopped garlic
1 hot red chili, cut in half lengthwise
2 bay leaves
3 small sprigs of thyme
1 pinch of allspice
2 small smoked ham hocks (about 2 pounds) or 3 pounds of smoked turkey wings or a smoked turkey leg
1 1/2 pounds fresh or frozen purple hull or other field peas, or substitute 1 1/4 cup dried black-eyed peas (if using dry peas, soak in water for 6 hours or overnight and drain)
1 large bunch of mustard greens, or about 12 cups torn leaves, lightly packed to total about a pound
1 cup chopped tomato
2 tablespoons pepper vinegar, apple cider vinegar or a combination of the two
1 tablespoon sugar
1 1/2 teaspoons kosher salt
1/4 teaspoon ground black pepper
1/3 cup thinly sliced green onions (white and green parts)
2 tablespoons torn celery leaves
Preparation:
1. Over medium heat, warm the oil in a large Dutch oven or other soup pot. Add the onion and celery and cook for 5 minutes, or until soft. Don't let the vegetables brown. Stir in the garlic and cook another minute. Stir in the chili, bay leaves, thyme and allspice.
2. If using ham hocks, add them along with 10 cups of water, bring to a boil and skim off any foam. Partly cover the pot with a lid and simmer for 2 hours. If using smoked turkey wings or legs, add 9 cups of water, bring to a boil and skim off any foam. Partly cover with lid and simmer for one hour.
3. Stir in the peas, partly cover the pot with the lid and simmer until the peas are tender. This will take about 20 minutes for fresh or frozen peas or as long as 1 1/2 hours for peas that were dried and soaked.
4. While the beans cook, wash the mustard greens in several changes of water. Taste a leaf to be certain they are not gritty. Tear the greens into bite-size pieces and discard the tough middle stem. Alternately, pre-cut, bagged mustard greens can be used.
5. Remove the hocks or wings to a platter and cool. Take the meat off the bone, chop and add to the pot. Discard any skin and connective tissue.
6. Add the shredded mustard greens and tomatoes to the pot and simmer just until the greens are wilted, or about 10 minutes. Stir in the vinegar, sugar, salt, black pepper and green onions. Taste and adjust seasoning. Ladle into warm, shallow bowls and scatter a few celery leaves on top. Serve with cornbread and pass pepper vinegar or hot sauce at the table.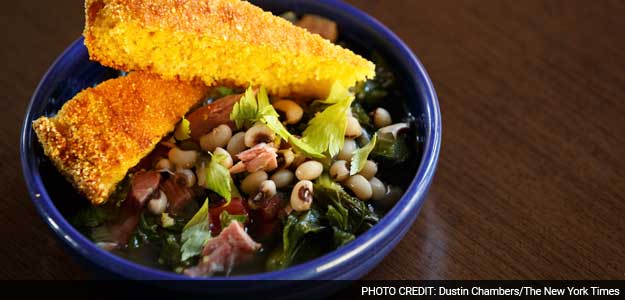 Crispy cornbread in a dish involving field peas and mustard greens in smoky potlicker, in Tuskegee. Black-eyed peas may be customary for New Year's Day, but field peas help sustain the rural Alabama economy.

Recipe: Thin and Crispy Cornbread
Time: 30 minutes Yield: 8 pieces
Ingredients:
1/4 cup bacon drippings or vegetable oil
2 cups coarse cornmeal, preferably white, plus about 2 tablespoons extra for the skillet
1 1/4 teaspoon kosher salt
1/2 teaspoon baking soda
1 large egg
1 1/4 cups buttermilk, preferably whole
1/4 cup hot tap water
Preparation:
1. Heat the oven to 500 degrees. Add bacon drippings to a 12-inch skillet and place in the oven to warm.
2. In a medium mixing bowl, use a whisk or fork to combine the cornmeal, salt and baking soda. Add the egg, buttermilk and water and stir well to combine. When the skillet is very hot and the bacon grease is sizzling, carefully remove from the oven and pour half the hot fat into the cornbread batter. Whisk well to combine.
3. Working quickly, sprinkle the hot skillet with the remaining coarse cornmeal. It should smell like popcorn. Pour the batter into the hot pan and return to the oven. Check after 20 minutes, baking until the cornbread is deep golden brown.
4. Remove the hot pan from the oven and immediately flip out onto a plate. Cut into wedges.© 2015 New York Times News Service