Among various vegetables, one of the most versatile vegetables is green peas. The green edible pods are not only super healthy but are also quite delicious. However, most people, especially kids, happen to be the staunch haters of green peas due to its distinct earthy taste. Enriched with the goodness of manganese, vitamin C and vitamin K, green peas stand out to be as an excellent addition to any healthy diet. According to the book, 'Healing Foods' by DK Publishing House, green peas' "fibrous content makes it useful for maintaining a healthy digestive tract." A healthy digestive system is often linked with healthy weight loss. Since peas are abundantly rich in fibre, which takes long to breakdown and digest, and induces a feeling of satiety. When we feel full, we are less likely to binge soon after.

Other than this, peas are also a great source of vegan protein. When vegetarians face problem in getting their share of protein, they turn to peas. This plant-based protein also helps keep you full for a longer spell.


(Also Read: 11 Best Matar (Peas) Recipes | Matar Recipes)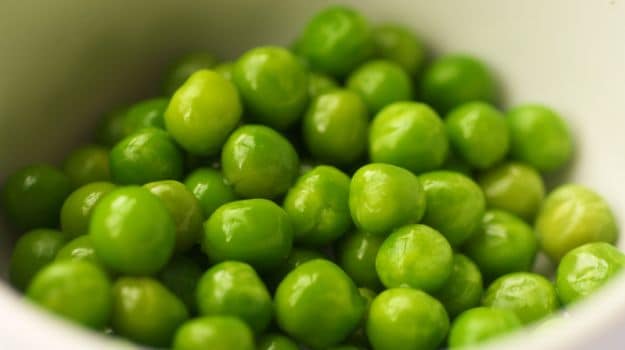 Apart from curries and pulaos, peas can be added to sandwiches, poha and upmas etc. Adding these delights to staple dishes is a great way to up the protein quotient of the meal.

Here Are 3 Protein-Rich and High Fibre Dishes That Are Prepared Using Green Peas:


Toss away the regular aloo and gobi parathas and try this healthy yet delectable matar parathas instead. This peas-stuffed paratha goes well with a chilled bowl of curd and serves as a perfect breakfast for children and adults, alike.

If you have picky eaters at home who dislike peas for their distinct taste, adding peas to mashed potatoes and turning into pattice is a clever way of introducing peas in their diet. You may even turn the pattice in the shape of stars to make it appealing to the kids.



Roasted Matar



Have a party at home and pressed for time? All you've got to do is roast some peas in an air-fryer and sprinkle over them spices like salt, red chilli powder, chaat masala and little oregano. This super quick recipe is sure to impress your guests.

So, the next time you head out for grocery shopping, stock up some fresh peas and make these delicious dishes at home.
About Deeksha SarinAn eccentric foodie and a die-hard falooda lover, Deeksha loves riding scooty in search of good street food! A piping hot cup of adrak wali chai can make her day bright and shiny!